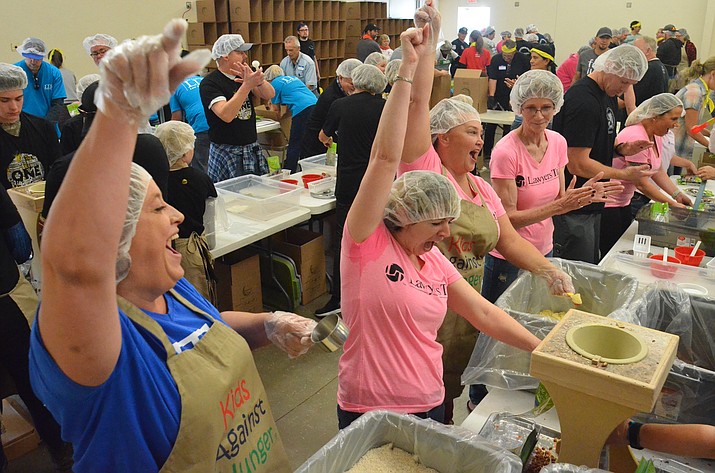 Originally Published: October 20, 2018 5:42 p.m.
Emory Wilson and Mary Wilson brought dirt cookies from Haiti to the Manzanita Outreach food packing event Saturday to show the 700 volunteers what some of the children in Haiti are eating.
The Manzanita Outreach program, through local packing events like on Saturday at the Verde Valley Fairgrounds and others across the nations, are packing nutritional meals for Hurricane-ravaged Haiti.
"Mothers are feeding their kids dirt cookies in Haiti," explained Karen Freeman of Manzanita Outreach in Cottonwood Saturday. Because they don't have enough food, she added. But the dirt cookies have no nutritional value.
"That's why we do what we do – right there," Freeman pointed out.
The 100,000 meals that volunteers were packing Saturday will be going to Haiti where the Wilsons are distributing it through their missionary work.
Wilson said they live there and hand out the packages to needy Haitians, after the pre-packed meals first go through a main distribution site in North Carolina.
He added that millions of the highly-nutritious meals of beans and rice have been sent to Haiti from the Manzanita project.
"They are very appreciative," he said at Saturday's event. "So many of them don't have the opportunity to eat."
Wilson said he wanted to relay a message from the people in Haiti to the Cottonwood volunteers that they really appreciated the meals.
"I personally know a lot of these children, and they wouldn't get nearly as much to each if they didn't get these packages," Wilson said.
"A community helping a community," he added.