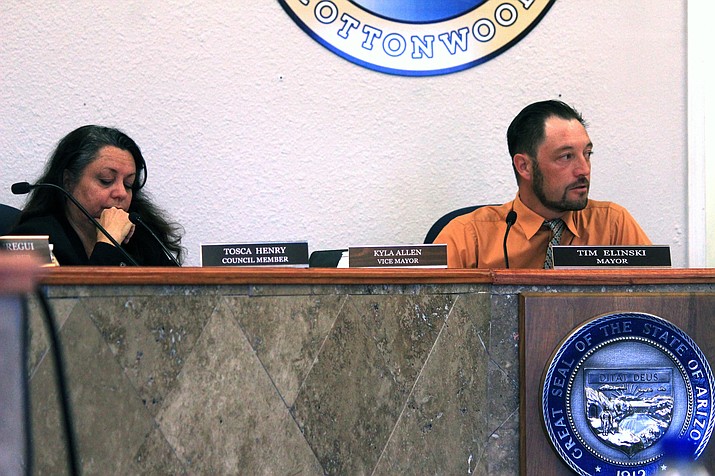 Originally Published: October 20, 2018 5:37 p.m.
COTTONWOOD -- The search for Cottonwood's new city manager is almost over.
In less than a month, Cottonwood City Council will make the final decision.
On Friday, members of the current council, including newly elected Michael Mathews and Doug Hulse met at council chambers to begin the process of narrowing down the search. Mathews and Hulse will be sworn in on Nov. 7. It is council's intent to involve both current and new council members in the hiring process, including Karen Pfeiffer and Linda Norman who will be stepping down in November.
Part of Friday's meeting was open to the public but shortly convened into executive session as council members reviewed each candidate.

Cottonwood Mayor Tim Elinski said he couldn't disclose the exact number of applicants narrowed down but that it was fewer than 10.
"I am excited to release potential candidates to the public," he said.
Elinski said members of the public and stakeholders will have a chance to meet candidates in a "meet and greet" format.
Council will interview final candidates on Nov. 16 and 17.
Novak Consulting Group, the firm hired to assist the city in the search were also selected by the Town of Clarkdale in their city manager search.
Council members were each interviewed by Jennifer Reichelt, one of the leaders of the firm. City department leaders were also interviewed to gather input to inform their search process.
According to Novak's city manager position description for Cottonwood, candidates should a bachelor's degree in political science, business management, finance or a closely related field and at least five years of experience in local government.
According to Novak's website, the salary range for the position is $129,307 to $190,551.
Current Cottonwood City Manager Doug Bartosh announced his retirement last February after 11 years of service. Bartosh became city manager in 2008 after three decades in law enforcement.
"I have had a long, enjoyable career in the service of citizens and I look forward to stepping down to spend more time with my family and friends.
It has been a great experience and my thanks and appreciation goes to the city council for allowing me to serve as the city manager and to the great city staff that always performs in the best interests of our citizens," said Bartosh in a February Verde Independent article.
Cottonwood City Council holds regular meetings every first and third Tuesday of the month at 6 p.m. at their Chambers Building, located at 826 N. Main St. For agendas and minutes, visit http://cottonwoodaz.gov/129/Agendas-Minutes.