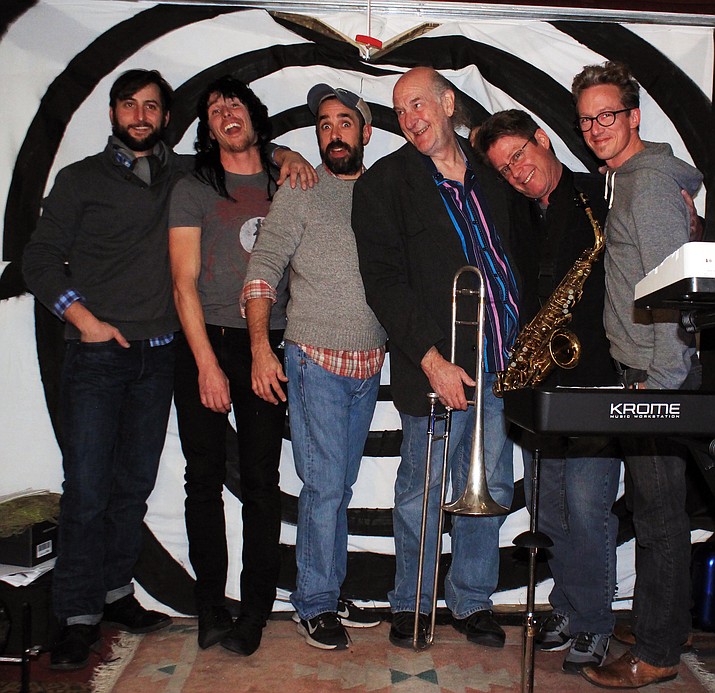 ---
---
There's something spooky brewing again this October in the Verde Valley. But also, a bit naughty.
DIY local band, The Naughty Bits is celebrating their inaugural family holiday in Flagstaff, Sedona and Jerome this Halloween weekend.
This year, the family of freaks is putting on a circus/freak show-themed performance.
They encourage audience members to dress up as well.

Halloween Shows:
• Where: Monte Vista Cocktail Lounge (21 and up) 100 N San Francisco St., Flagstaff
• When Friday, Oct. 26 from 10 p.m. to 1 a.m.
• Admission: Free
• Where: 44th Jerome Halloween Dance (21 and up) 407 Clark St., Jerome
• When: Saturday, Oct. 27 from 9 p.m. to 1 a.m.
• Admission: $15 per person or $25 for a couple
• Where: Uptown Sedona
• When: Wednesday, Oct. 31 from 4 p.m. to 8 p.m.
• Admission: Free
Last Halloween, the group invited Saxophonist Steve George to perform with them for the first time. Since then, they've asked him to "go steady."
Guitarist Christian Jerman, who was part of the group from the very beginning but took a brief hiatus on the east coast, was also asked "to go steady" with them again.
The band originally began as the costume-clad theatrical group, Yin Yang & Zen Some. Over the years, they were booked more under the moniker, The Naughty Bits – Yin Yang only appearing on Halloween.
Now, they're sticking to The Naughty Bits as they focus more on their music. The group also hopes to come out with an original album soon.
Drummer, Lou Moretti says "The Naughty Bits is an easier name to say."
But "not as kid-friendly," admits bassist Dylan Jung.
A common sentiment in your group's ethos is to "throw a party you'd like to go to." This year, you're going to play the Halloween Dance in Jerome. Why is that important?
Dylan: The first time I went was 12-13 years ago and what I saw was all these people spilling to the street and everyone made their own costumes and did all this crazy stuff. It seemed like quite the party. We talked about it for the last couple years and they got interested too. It was a match made in heaven.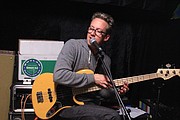 Lou: We've talked about playing Jerome ever since we started the band.
You guys are coming in this Halloween as The Naughty Bits instead of Yin Yang & Zen Some. Why?
Jason: Finally the scales had tipped toward Naughty Bits.
Lou: Yin Yang was the first incarnation of the crazy costume band and at a certain point Yin Yang was just the Halloween band and those of us who were still here were performing under Naughty Bits. Every show just wasn't a costume show.
Uncle Marc: I don't think it was a conscious effort of the two but Yin Yang leaned more towards the show – the theatrics. It's evolved all the way to now. When we became The Naughty Bits, we had pride in how tight we were getting and started to lean more toward the music. The show is just as important but it's not the most important.
Dylan: Yin Yang & Zen Some in the early days, that's what the band was called and we gigged more often. Nowadays, we get gigged more often as The Naughty Bits that's what most people know us as. As Yin Yang & Zen Some, we always put on a Halloween show even when it wasn't Halloween. It was always costume shows and always a theme. Now we don't do that, now we try to go out and perform and we try to look nice and act funny.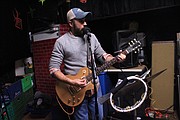 Jason: Our personalities are still certainly part of the show
Uncle Marc: We're like KISS when they took off the makeup.
Now that the brand seems to be Naughty Bits instead of Yin Yang, what else is going to change?
Dylan: We have a big year planned next year. There's talk of recording an album. Whether it's an album or some songs, we want to write some of our own stuff.
Jason: Or a Roller Derby Rock Opera
Dylan: Roller derbies are great. Hot chicks are at roller derbies – and hot guys too.
Steve: Do we all have to be in roller skates though?
Everyone: Yes!