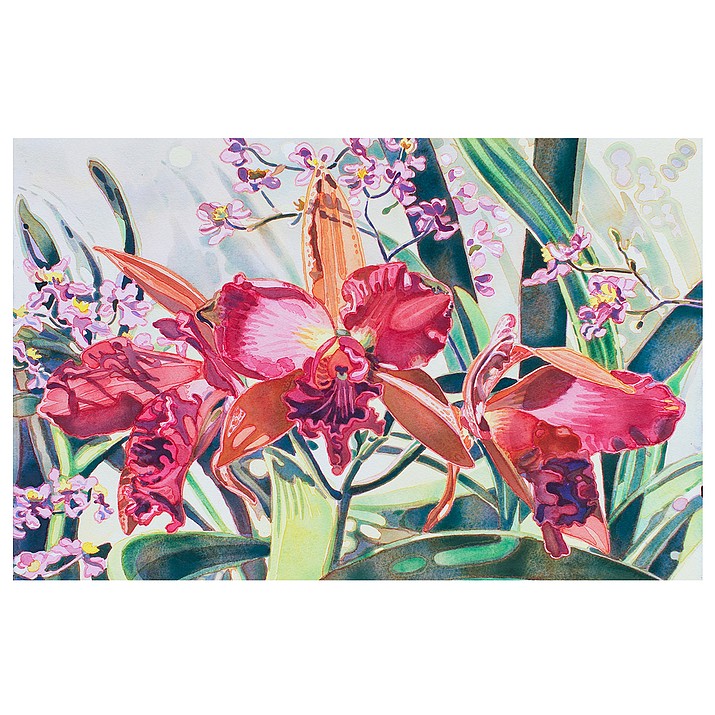 Originally Published: October 31, 2018 10:54 p.m.
Nothing in this life truly exists in an isolated context. Objects, ideas, and actions all work with or against each other. The same is true of artistic elements. Themes, colors, light, techniques, materials, canvas type, and so on play off each to create what is a completed piece. This November, Kuivato celebrates the synergy of these elements in their new exhibit Creation in Concert. Join them for the opening reception, Friday, November 2nd, from 5-8 p.m., during 1st Friday in the Galleries.
Watercolorist Meg Munro creates detailed masterpieces that use color and technique to express personal themes. Religious iconography is present in much of her work, but virtually always appear in a natural setting. For Meg, spiritual beauty is inherently intertwined with the beauty of nature and each enhances the other. More recently, Meg has used a new type of canvas to help play with what is already present in her works. Pieces like those in her "Iris" series already display a deep appreciation of light. Infusing those images onto aluminum giclees allows the sheen of the actual canvas to accentuate that element of light.
Blown glass artists David and Melanie Leppla combine both the real and surreal to create their wonderful Cairn Stones. Each piece is a mix of naturalistic looking and exuberant glass stones, that vary in color, shape, and size. Bright red stones lay calmly on stones of gray, flat wide stones support stones that are narrow and tall. These contrasts and combinations are also changed by the type, angle, and quality of light shining through the pieces. Experimentation of these elements is key to David and Melanie's work, and yet each piece always ends up reflecting a delicate and beautiful balance.
Join Kuivato, Friday, November 7th, from 5-8 p.m. for the opening reception of Creation in Concert. See the intermingling of artistic ideas in the work of Meg, David, and Melanie, as well as the work of all our represented artists. Explore the gallery, talk to local artists, and enjoy small bites and drinks.
Kuivato a Creative Gateways Gallery is a founding storefront in Tlaquepaque in Sedona. The gallery displays a wide variety of mediums, including fused, blown, and torchwork glass, jewelry, ceramic, mixed media, illustration, and bronze. Kuivato is a sister gallery to artist collective and public gallery space, Creative Gateways in West Sedona. Visit Kuivato seven days a week, starting at 9 a.m. For more information, please visit www.kuivato.com or call 928-282-1212.
More like this story