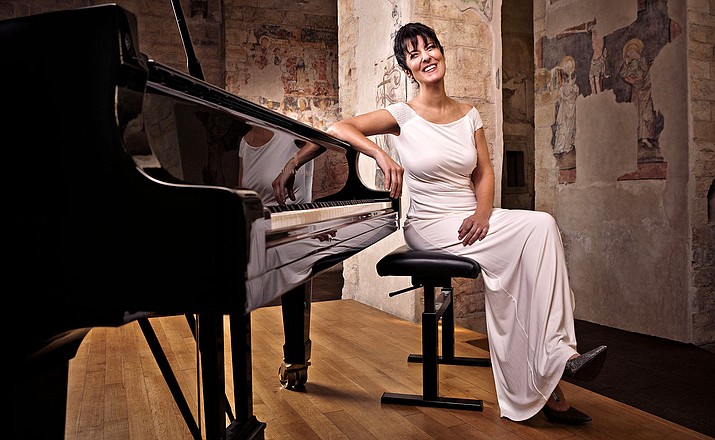 ---
---
The Red Rocks Music Festival will present four concerts in Sedona Sept. 8-28.
Sedona Concerts
On Saturday, Sept. 8, 7:30 p.m., the festival will kick off with "A Dialogue through Music," Trios by: M. Bruch, G.C. Menotti and J. Brahms's Piano quartet in G minor, "Gypsy."
Musicians are David Ehrlich on violin. Ehrlich is a fine arts outreach fellow at Virginia Tech.
Ron Ephrat is a Principal Violist at Rotterdam Philharmonic.
Cellist, Jan Simiz is an assistant principal cellist at the Phoenix Symphony. Nikola Djurica is a clarinet virtuoso from Serbia and pianist Teresa Ehrlich is founder and Executive Director of the Renaissance Music Academy, Virginia.
Sunday, Sept. 9, at 3 p.m., will be "From the Romantic to Jazz," J. Brahms's Clarinet Quintet and R. Rotner's Piano Quintet, an Arizona premiere.
Musicians are David Ehrlich and Anna Kim, Principal 2nd violin of the Phoenix Symphony, Ron Ephrat, violist, Jan Simiz, cellist, Michael Kazepides, double-bass, principal the Phoenix Symphony, Nikola Djurica on clarinet and pianist Teresa Ehrlich.
Sunday, Sept. 16, 3 p.m. will be Sandra Shapiro, piano faculty from the Cleveland Conservatory of Music and Oberlin Music Conservatory. She will perform "In My Father's Footstep"- A Daughter search for Answers. Works by: Chopin, Rachmaninoff & Schubert.
The final concert in Sedona will be on Friday, Sept., 28, at 7:30 p.m., featuring world-renowned violinist Shlomo Mintz in a gala concert, works by: Bach, Kreisler, Ysaye and Paganini.
All Sedona concerts are at the Sedona Creative Life Center, 333 Schnebly Hill Road, Sedona.
Tickets are $28-$45 General admission, VIP $65, VIP ticket and reception, $150, Students with ID- $10.
About Red Rocks Music Festival
The Red Rocks Music Festival educates, engages and challenges audiences through a unique collaboration of musicians from leading Arizona performing arts organizations and world-acclaimed artists. An integral part of the Festival's mission is education.
Master classes and workshops enable young musicians to learn skills from master musicians. The festival provides outreach educational music programs that inspire students to appreciate and continue their interest in the arts.
Visit www.redrocksmusicfestival.com or call 602-402-4551.