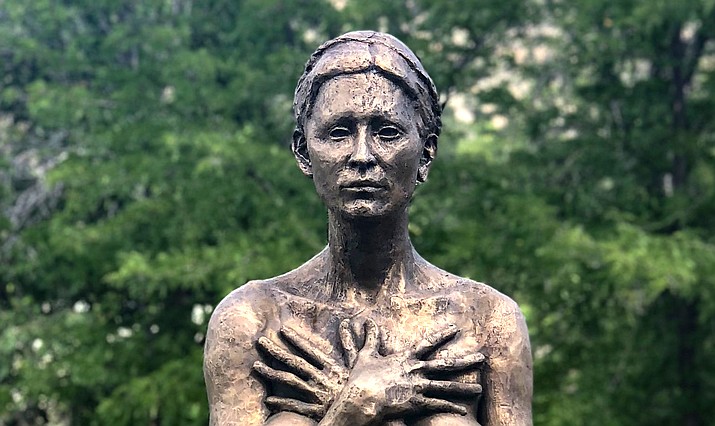 ---
---
Throughout September there are many opportunities to honor and celebrate peace in Sedona. John and Ruth Waddell, Sherab Khandro, Goldenstein Gallery, L'Auberge de Sedona and AumBase Sedona invite you to Follow the Peace Trail with free Peace Meditations lead by artist and speaker Sherab (Shey) Khandro on Sept. 15, 18, 21 and 27.
All of these events are free and everyone is invited.
For renowned sculptor John Waddell, Sept. 15 marks a changing point in his art and life philosophy caused by the tragic 1963 Birmingham, Alabama church bombing, when a bomb exploded before Sunday morning services at the 16th Street Baptist Church in Birmingham, Alabama -- a church with a predominantly African-American congregation that also served as a meeting place for civil rights leaders.
Four young girls were killed and many other people injured. All four of the men linked to the bombing belonged to the Ku Klux Klan. Outrage over the incident and the violence between protesters and police that followed drew national attention to the hard-fought, often-dangerous struggle for civil rights.
Renowned Arizona sculptor John Waddell was so moved by this that he immediately went into his studio and began moving things around -- making way for something. Feeling something had to be done, to be said. As he was a sculptor, it would be through his art. He and his models would retaliate with peace.
Over the next 15 months, 19 different women from the surrounding community came to pose for Waddell and his sculptural eulogy to the four little black girls - the work that would come to be titled, "That Which Might Have Been, Birmingham, 1963."   These four poignant sculptures, facing North, South, East and West, represent the girls had they grown to womanhood.They are on permanent display at the Unitarian Church in Phoenix and the George Washington Carver Museum and Cultural Center in Phoenix.
Saturday, Sept. 15, is the 55th anniversary of the Birmingham bombing and a special Meditation for Peace will be held at the Waddell Studio and Sculpture Garden at 10:30 a.m., located at 10050 E. Waddell Road, in Sedona. This special place is down a dirt road with an easy shallow water crossing. Once arriving, walking shoes are needed to enjoy the open-air sculpture garden. All are welcome.
"From a world torn asunder by artificial and meaningless barriers, where differences create misunderstanding and fear, we look to a future of harmony and peace, where differences quicken interest, reveal beauty, and create a desire to understand,"said John Waddell.
Additional Peace Trail meditations will be at AumBase Sedona at 2 p.m. on Tuesday, Sept. 18, located at 1225 West SR 89A, and creek-side at the beautiful L'Auberge de Sedona resort in uptown on the International Day of Peace , Sept. 21, 9:30 a.m.

Khandro will also be speaking that evening at the Sedona Creative Life Center at a World Peace event. The last Peace Meditation will be at Goldenstein Gallery at 9:30 a.m. on Saturday September 29. All of these events are part of the Goldenstein Gallery's Every Day Peace exhibit and events throughout September promoting Peace through Art.
Goldenstein Gallery is located at 150 State Route 89A in the heart of Sedona and has been voted Sedona's Best Gallery 11 years running.