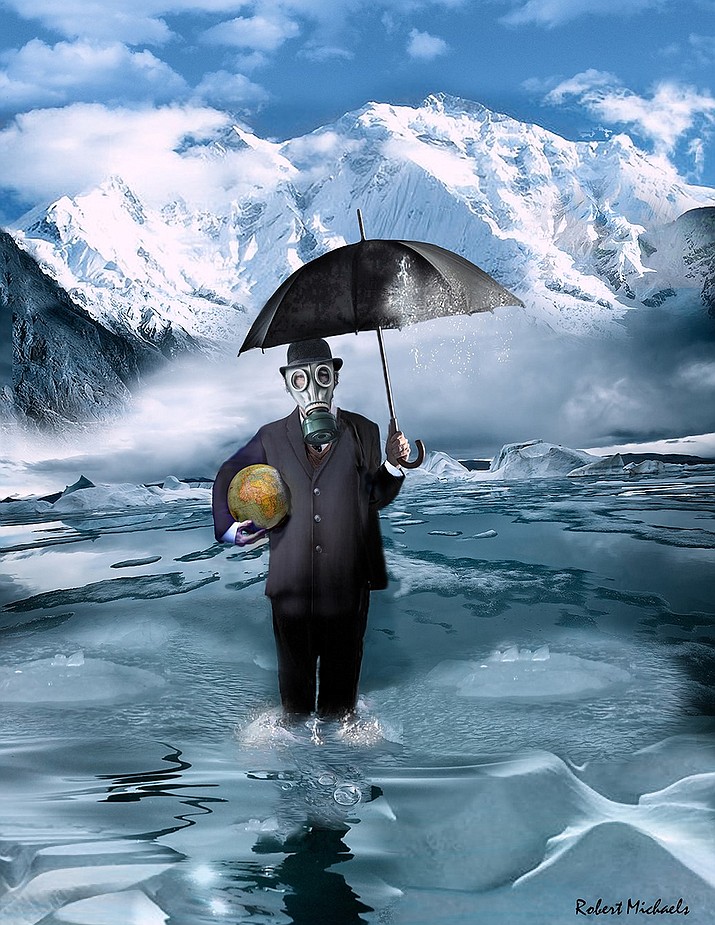 ---
---
Sedona based international artist/photographer, Robert Michaels is pleased to announce receiving the First Place award in the prestigious international juried Bauhaus Prairie Art Gallery Competition under the art theme "Creative Inspiration."

Robert's entry image was titled "GLOBAL WARMING". The exhibition will be online through Sept. 24.
Juror's notes:
"Global Warming, first place by Robert Michaels, is an "in your face" social statement about the future of earth. Pristine snow covered mountains surround the figure. A closer examination, however, of the midrange of the composition shows small icebergs and glaciers melting into the water swirling around the ankles of the figure.
"Instead of breathing the fresh oxygen released by the ancient ice formation, the figure is in a gas mask to prevent dangerous particles in this environment from entering his lungs. The polluted colored globe is tucked gently under his arm and both the human and the earth are protected from some sort of rain, possible acid rain, dripping from the umbrella.
"Even though you cannot see the figures eyes, his posture speaks of the need for help. The photograph subject is not unlike the modern surrealist artist, René Magritte. The photo collage is seamlessly constructed demonstrating Robert Michaels photographic skills."
For more information regarding Robert Michaels and to view some of his artwork, please visit his website at www.robertmichaelsphoto.com.