Verde Valley Women who Lead: Sebra Choe
Building communities from the ground up

Originally Published: September 14, 2018 4:20 p.m.
CAMP VERDE – Sebra Choe came to the Verde Valley 10 years ago in what she jokes was a "series of unfortunate events."
But in truth, Choe, 37, is "grateful to be here."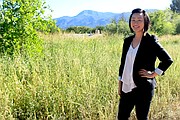 Already a former U.S. Army Chemical Officer, airport shuttle driver, recording secretary and programs specialist at the Camp Verde Community Library, Choe added Economic Development Specialist for the Town of Camp Verde to her resume two years ago.
Choe attended high school in South Korea and has done humanitarian work overseas. She expresses a great love for Camp Verdeans. She has described them as "pioneers," and people who "build communities from the ground up." She said she believes in the importance of making an impact in rural communities that may not have the same resources as bigger cities.
Since taking on her role in the town's Economic Development department, Choe said she often deals with constant doubt from people who aren't ready to accept change. However, she also feels emboldened in her role in a workspace that supports "99 percent" of her ideas.
"I feel more courageous than ever before in the way that I approach things," she said.
You've been involved in a lot of different youth programs in Camp Verde. Why is this important to you?    
It's character-building to work with students, and it's community-building to invest in them. Without them we can't retire, but besides the pragmatic value to our workforce and cultural vitality--I feel a great sense of injustice that our region fails them in the area of living wages, diverse career opportunities, and affordable housing. There is a quiet hostility at work in our conditions that repels youthful talent. I define our "youth" as anyone who feels youthful, regardless of age. Our mouths say, "We need more young people," but our opportunities say, " Go to Phoenix." I refuse to accept that as the fate of rural Arizona--so does the USDA, Local First Arizona, NACOG, AmeriCorps VISTA, and every hustling rural town. We have to get creative instead of doing more of the same.
What is a fact most people don't know about you?
I always dreamed of becoming a singer. During my army days, I won a battle of the bands competition in Korea with soldiers from my platoon, singing Alanis Morissette, and "Stand by Me" as a mash up with Puff Daddy's "I'll be missing you.'
What is your favorite part of your job? What is your least favorite?  
Camp Verdeans and innovative problem-solving are my favorite parts of the job. My least favorite part is the elusive living wage, which makes it difficult for people to put down stable roots. Meanwhile, many industry sectors see high wages go to out-sourced leaders with high turnover rates--and I would like to see us grow more of our own leaders and talent. 
Is there a specific event that motivated you to be where you are now?
Ironically, traveling overseas on humanitarian trips has helped me to realize the importance of sticking around long enough to affect lasting change toward quality of life, wherever you are. The people I met in South Africa and Cambodia inspired me to give thanks in all circumstances and to serve others where I live. 
How do you handle issues that are unique to women in leadership roles? 
Overwhelmingly, I have experienced the mentorship and appreciation of others as a leader in the military and as a public servant in the Verde Valley. One time I had to file a formal complaint due to a gender issue, and one time I was banned from attending the meetings of an organization. Silently, I remind people that I am not my boss' secretary, but since we share an office and Outlook calendar, I should not be surprised that people are always asking me, "Where's Steve?" Occasionally, I get the "honey" and "sweetie" you hear in small towns, from men and women alike, but it's more of a family term around here. 
Favorite book and why:
Kite Runner. It transports you into the life of a boy growing up in Afghanistan and was published when our troops were over there. I relate to the immigration story and am so impressed with the story of the author: moved here from Afganistan, became a doctor, then his debut novel becomes an international bestseller and an independent film.
Who/what inspires you and why?
Our volunteers, pro bono consultants, nonprofits, educators, police officers, and soldiers--because they do willingly what we can't pay them enough to do--and they love doing it.
What are some projects you're working on now that you're most excited about?
Our first dark sky festival on the first Saturday in October. Details at: facebook.com/visitcampverde. Building a tree education center through an Arizona State Forestry grant with our Tree Advisory Committee, Yavapai-Apache Nation's Environmental Protection Department, Friends of the Verde River, artists, and students. Creating new state certified apprenticeships for local trade industries. Building a dark sky business program with our new NAU graduate student intern. Hiring an AmeriCorps VISTA. Facilitating a mural on Main Street. And hopefully hosting a sign-making workshop in partnership with our businesses, artists, and Community Development. Last and dearest, our small-home subdivision affordable workforce housing project, called "Wee Hollow."
Related Stories
More like this story
SUBMIT FEEDBACK
Click Below to: