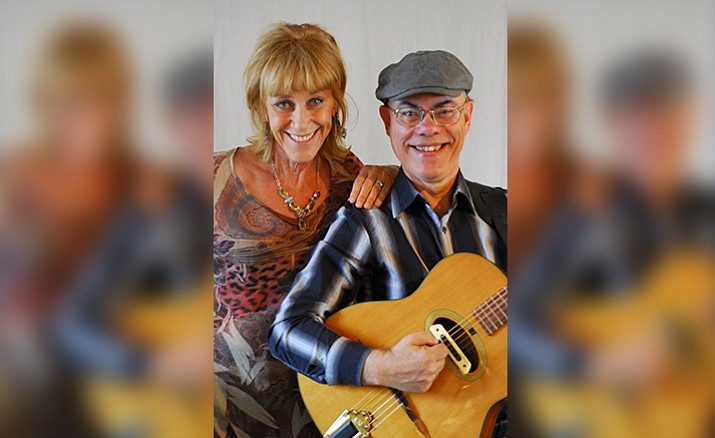 ---
---
Vino Di Sedona is the place to be on a Wednesday night listening to Rick Busbea, Sept. 26, 7-10 p.m. If you ask Rick to label his music style, he will jokingly tell you, "Caribbean Country Classic Rock." As he plays favorites by artists ranging from Kenny Chesney and Johnny Cash to Van Morrison and Marshall Tucker, it's easy to see his point. 
"Rick adds his own flavor to the songs that he covers and is one of Sedona's favorite entertainers," says Vino Di Sedona owner, Wes Schemmer. Rick does play some original music, but his passion is cover songs to take his audience down "memory lane." This belief led to the creation of the "Rick Busbea Jukebox" so his audience can pick favorite songs for him to play.
It's Cabaret Night with A Touch of Europe at Vino Di Sedona on Thursday, Sept 27, 7-10 p.m. Vismaya (Ingrid Hagelberg) recording artist and vocalist was born in Sweden and has toured the world with her international Jazz Cabaret Act.
Vismaya just returned from Europe where she sang at The Copenhagen Jazz Festival. She also performed in Vienna for the Hank Jones Centennial in a four- day concert series called "Just Friends".

She has released several CD's internationally, has performed at jazz festivals, supper clubs throughout Europe, Japan, South Africa and America. She sings in five different languages, and her latest CD "Les origines de l'amour" produced by Fervor Records is a compilation of original songs in French. (ingridhagelbergjazz.com). Vismaya is teaming up with the multi instrumentalist Allen Ames for this rare performance.  
Almost a Sedona regular, Allen Ames – violin/bass/guitar -- lives in Phoenix, but performs often in the Verde Valley. Allen has played with orchestras and chamber ensembles including the Arizona Opera and Ballet Orchestras.
Since 1985 Allen has explored a wider field of musical improvisation, playing and recording with Mosaico Flamenco, R. Carlos Nakai and other adventurous artists. Allen also joins with Zazu and others to play exciting gypsy violin and modern jazz arrangements.
Sing along to all the hits by the Beatles at Vino Di Sedona on Final Friday Beatles Night with Tommy "Rocks" Anderson, 7-10 p.m. You can sing along to all your favorite Beatles songs with one of Jerome's finest musicians Tommy "Rocks" Anderson.
Tommy is an acoustic rock musician who has performed on stages throughout Arizona. Tommy combines a mix of classic rock, pop, reggae, R&B and original songs along with the best of the Beatles to create truly memorable shows.
Tommy was the bandleader for the popular Beatles cover band Ringo McLennonSon, playing clubs and festivals across Arizona. Since moving to Jerome, Tommy has opened up the music store Tommy Rocks, specializing in autographed rock & roll memorabilia, rare vinyl and of course instruments. He has also formed the Sedona Ukulele Posse in conjunction with the Sedona Arts Center.
Tommy's acoustic Beatles show features hundreds of sing-along Beatles hits, covering songs from The Quarrymen through The Beatles and Beyond, including John, Paul, George and Ringo's solo hits. Tommy has performed hundreds of Beatles shows, and enjoys interacting with the audience as they sing along to some of the Beatles greatest hits – as well as their most obscure songs. Beatles Night is Sept. 28.
Enjoy the songs of Frank Sinatra performed by Bobby Myhre along with Vino Di Sedona's Saturday Wine Tasting on Sept 29, 3:30-6 p.m.
"When Bobby sings, he sounds like a young Frank Sinatra, and is one of the best singers I heard or hired" said AZ and California nightclub owner Keya Tehrani. Bobby is a singer of classic pop and jazz standards. Whether in a silky smooth ballad voice, or a hard driving swing tempo, Bobby has a repertoire of 300 songs including Cole Porter, Nat King Cole, Tony Bennett, Irving Berlin, and of course, Frank Sinatra.
Saturday Night, Sept. 29, brings Sedona sensation Robin Miller, 7-10 p.m.
Robin Miller is adored for his gutsy blues and power rock guitar playing, as well as his singing and his prolific songwriting, honed by over forty years of professional experience.
His love of playing and singing is contagious. He's a diverse musician who incorporates many styles, but his fiery guitar solos, and his rich and bluesy rock vocals always get the crowd feeling energized.
Jim French's monthly Open Jam at Vino Di Sedona is a popular Sunday evening destination for locals, musicians, and tourists.
Jim French and his talented friends invite other musicians to join in and play music every last Sunday of the month, 6-9 p.m. Be a part of the entertainment or a part of the audience, either way a fun night is sure to be had by all.
St Petersburg, Florida, based Americana duo, Cataldo, featuring Paul and Ieva Cataldo, make their debut appearance at Vino di Sedona for Music Monday on Oct 1, 6-9 p.m.
The duo is out on a hundred plus date tour in support of their new album "Wild & Free." Life long musician Paul Cataldo is an independent Americana singer/songwriter born and raised in South Eastern Massachusetts. 
He developed his Appalachian mountain-influenced brand of backwoods wilderness inspired Americana while living in Asheville, N.C., through his late 20's and early 30's. 
Paul now records albums and tours for a living everywhere from Florida to Alaska and overseas from Lithuania to Portugal with his wife and band-mate Ieva Cataldo. Paul and Ieva call their Ford Explorer and 2003 Scamp trailer home most of the year while they perform over 200 shows on average annually.
Sedona's best Open Mic night, hosted by Dan Rice, is every Tuesday, 6-10 p.m., at Vino Di Sedona. Each musician is allotted an amount of time, or number of songs, and every week brings a variety of new talent along with regulars like KB Bren, Chris Seymour, Randy J, David Harvey, Robin Bryer, Vickie Moyer and Dave Rice who frequently play at Open Mic.
Vino Di Sedona is located at 2575 W SR 89A in West Sedona. For more information or to see the full calendar of events, visit www.VinoDiSedona.com. 928-554-4682