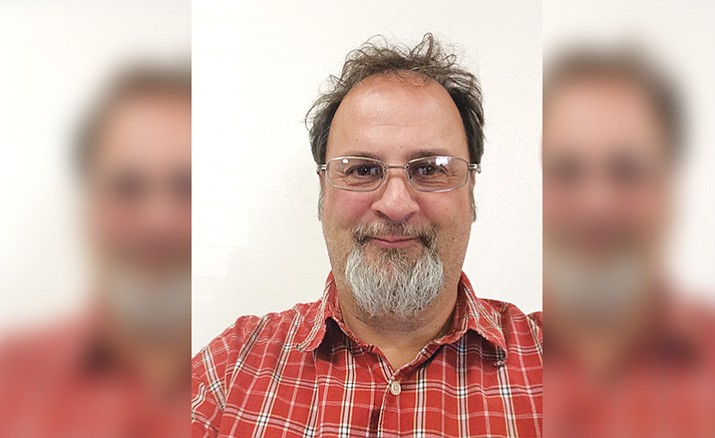 Originally Published: September 22, 2018 12:03 p.m.
PRESCOTT VALLEY – Friday, the editorial staff of Verde Valley Newspapers won 16 awards at the annual Western News&Info Editorial Seminar.
VVN staff reporter/photographer Bill Helm won the company's Journalist of the Year award for non-daily newspapers, as well as first-place awards for sports photography, headline writing and creativity in reporting.
Helm also won a second-place award for feature photography.
Helm has been on staff at Verde Valley newspapers since 2013.
In her nomination of Helm as the Western News&Info Journalist of the Year, Verde Valley Newspapers Publisher Babette Cubitt wrote, "Anyone who has ever spent even a small amount of time with Bill knows quite well that he loves baseball. He can quote chapter and verse from the Major League Baseball Book of Records and he is absolute, certain and exact when citing baseball history.
"That penchant for precision became a key ingredient in his reporting and writing when Bill made the transition (from photography) first to sports writing and later to news and feature reporting. He is not so much a Who, What, Where, When, and Why reporter as he is one who can break down the traditional 5 Ws into entire subsections of questions that define his reporting and writing in very specific terms. There is an exactness to his reporting not unlike the precision of an unassisted triple play. There is specificity to his news delivery that parallels the distinction between a no hitter and a perfect game. It is a skill-set that provides confidence to readers that they are on the receiving end of accurate, finely-detailed, precise news.
"As he has entered the era of online and social news delivery, Bill continues to expand and take full advantage of the tools of his trade. He has a keen sense of what stories break best through the blending of online and social media vs. what stories have the luxury of sitting tight for the print edition. Especially during the Verde Valley's annual flood season, Bill has become a master at delivering breaking news using the full arsenal of multi-media tools at his disposal. If you choose to try and drive your four-wheel drive across a flood-ravaged road at 4 in the morning, Bill Helm will have video of you sitting trapped on the roof of your truck while emergency responders rescue you on verdenews.com and Facebook by 4:30 a.m.
"Bill combines all of the above with a genuine love of news delivery in every form it can take in today's world. He does it precisely, clearly and accurately."
VVN staff photographer Vyto Starinskas won a first-place award for his feature images and a second-place award for his news photography.
Starinskas also won second-place awards for his lead writing and for video.
Starinskas has been on staff at Verde Valley newspapers since 2014.
Associate Editor Kelcie Grega won a first-place award for column, opinion or blog writing, as well as a second-place award for headline writing and third-place awards for excellence in writing and in feature writing.
Grega has been with Verde Valley Newspapers since March.
Graphic artist Chris Myers won a first-place award for page design. Myers has been with Verde Valley Newspapers since 1979.
Sports writer James Kelley won third-place awards for sports writing and for column, opinion or blog writing.
Kelley has been with Verde Valley News since 2017.
Western News&Info Inc. is a family-owned media company owning newspapers in Arizona. Verde Valley Newspapers is comprised of the Verde Independent in Cottonwood, the Bugle in Camp Verde, Kudos in Sedona and The Villager in the Village of Oak Creek, as well as the Ad-King.
More like this story