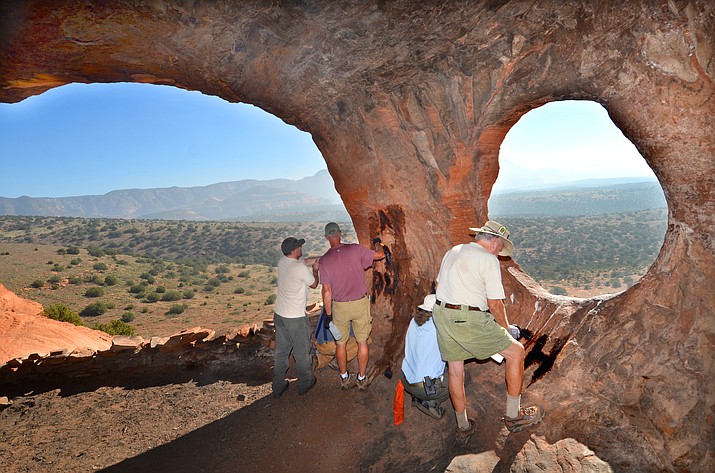 Originally Published: September 30, 2018 1:25 p.m.
SEDONA -- The Friends of the Forest graffiti-response team likes to strike fast.
So when someone defaced an archaeological site in Sedona last weekend with large, black letters spewing vulgarity, the crew was on the site by Thursday morning.
The archaeological rescue started its mission by driving down a dusty forest road in an unlikely caravan consisting of a motorcycle, a razor ATV, and a pickup with a cab bearing a sign: "Imagine all the people living life in peace."
This act of vandalism was different because coverage of it was all over state-wide television news and social media by Tuesday night.
And it was at the Robbers Roost cave, a very well-known hiking site for locals for years. It is also known as Shaman's Cave by the new tourist industry in town, and the cave or archaeological site is simply known as District 6, Site 18, by the Forest Service.
"There was evidence of the very faint, very worn Sinagua pictographs there in the past, but the new paint is directly over them, so one way or another, they have been destroyed," explained Friends of the Forest member Spence Gustav.
The half-dozen Friends of the Forest volunteers, with the guidance of Gustav, a geologist with an archaeologist background, and Ted Neff, an archaeologist with the Coconino National Forest, used water, biodegradable paint remover, rags, towels, brushes, spray bottles and other items that they pack up the half-mile hike to Robbers Roost.
They had a sense of urgency to strike fast and remove the graffiti because they believed the longer the graffiti remained, the more chance it would encourage copy-cats.
Cleanup team
As it is, the Friends of the Forest team goes out once or twice a week to clean up a graffiti report, many much smaller than the one at Robbers Roost this week.
Friends of the Forest has 500 members who hike Sedona trails and report graffiti to their graffiti committee. They also get reports from complaints filed through the Red Rock Ranger Station of the Coconino National Forest near the Village of Oak Creek – 928-203-2905.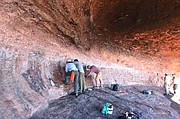 Sometimes the vandals even post their graffiti on social media and those are followed up on by the graffiti committee as well as law enforcement.
Graffiti can consist of paint, scratched/carved out names and words in the Red Rock or even charcoal or other tools that vandals may think will wear off over time.
The fine is $280 for getting caught doing graffiti on Forest Service land, according to Francisca Adrian, Assistant Recreation Staff Officer at the Red Rock Ranger Station.
Adrian said each cleanup has a different cost in terms of Forest Service staff hours, volunteer hours and clean up materials. The cost of one cleanup several years ago that had to be calculated for restitution was approximately $1,600 in terms hours and materials.
Each cleanup also comes with risks, as the crews try not to damage any historic artwork and bring the red rocks back to their natural appearance.
So it is very important that anyone who finds graffiti in Sedona report it to the Red Rock Ranger Station, make a report, let archaeologists assess the graffiti removal and let trained volunteers remove the graffiti under their guidance, she said.
In 2012, Adrian said the Red Rock Ranger Station saw a need for a graffiti response team because the large problem of graffiti developing in the Sedona forest.
"We weren't just taking it down fast enough," she said.
So she approached Friends of the Forest and they agreed to help, she said, but they can't just go out and clean. There is a protocol in place, she stressed.
"What if they are cleaning graffiti that is right next to historical graffiti," Adrian asked.
Leave it to experts
The Forest Service relies on archaeologists or para-archaeologists and other specialists like hydrologists and wildlife biologists to determine the removal plan.
 "We try to take it down right away because we don't want to promote that, hey yea it's cool, you can to do that here. We want to make it clear that, no it's not acceptable. Therefore it's gone," she continued. "We respond quickly to minimize a copy-cat."
The Forest Service also wants to stress that people should not to try to clean up the graffiti themselves because that can ruin artwork and stain the Red Rocks, according to Neff, while at the cleanup at Robbers Roost Thursday.
"I just want to remind the public if you find graffiti, please report it, and don't try to do anything yourself," Neff explained. "Because we have experts" who can remove graffiti without damaging the historic rock art.
Gustov said the Robbers Roost site has remnants of Sinagua and Yavapai rock art, primarily pictographs, stone walls that have been rebuilt. The team has been there several times for graffiti cleanups.
Besides the latest vulgar graffiti massages, Gustov pointed to dried purple paint spilled on the rock in the cave that is covering a Sinagua pictograph he described as a "swirl," and they cannot remove it without destroying the pictograph.
"So we actually have no choice, we have to leave that bit of paint there," he said.
"One of the things we've learned is when people who just don't know any better, see graffiti, they simply assume it's OK to remove it on their own thinking they are doing a good thing."
As in the case of Robbers Roost, the rock art is difficult to see and identify so people may think they are doing good, but they may be damaging the rock art under the graffiti, he pointed out.
The Robbers Roost clean-up took about two to three hours and a half dozen men, but Gustov said they have had some "monsters" like at Slide Rock that take 15, 16 people all day long.
"I want to say we do two a week," Gustov said. "We're fortunate we have a lot of members."
The Friends of the Forest, which works directly with the Red Rock Ranger Station in many aspects like trail repair and hiking, has about over 500 total members and about 60 in the graffiti committee, Gustov said. About 25 are in the graffiti's "hard-core" group he added.
Besides Slide Rock, Gustov said the other places that get the most graffiti reports are Bell Rock, Cathedral Rock, West Fork and Devil's Bridge.
And as in Robbers Roost on Saturday, the graffiti crew members said they had one goal when they leave a clean-up site: They leave the site looking as though it never happened.