McCune signs with Arizona Christian baseball

Originally Published: January 26, 2019 1:25 p.m.
Camp Verde High senior baseball player Dawson McCune is staying close to home for college.
McCune signed with Arizona Christian University.
He said he chose ACU so he can be closer to family.
"And I get to play ball and learn about God at the same time," McCune said.
McCune was first team All-Central Region last year as a position player.
"I was pretty excited for him," CV head baseball coach Will Davis said. "He's a good hard worker, he's really earned it."
McCune's scholarship is for $3,000. He plans to major in sports psychology.
ACU competes in the NAIA and is currently located in Phoenix.
"Oh it's really cool because if I get home sick I can just come home whenever I want to, so it's pretty cool," McCune said.
ACU is moving to Glendale, to the spot of the ASU's Thunderbird School of Global Management. McCune said his class will be one of the first to go to school there.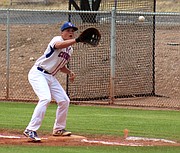 "I think that's pretty awesome," Davis said about McCune going to ACU. "He's the second kid since I've been here that's had an opportunity to play for ACU and so that's kinda neat that he's able to stay in state and play at a four-year school."
ACU is the only accredited, evangelical Christian university or college in Arizona.
Arizona Christian was founded in 1960 as Southwestern Conservative Baptist Bible College and after a few other name changes in 2009 became a non-denominational Christian liberal arts college.
"It's a great opportunity you know, just waiting for my faith to grow even more than it is now," McCune said.
The Firestorm went 22-31 last year and had a player drafted by the Washington Nationals.
First year head coach Joe McDonald leads the ACU coaching staff of nine.
"They're super inviting, super nice but I can see that they got a little mean streak kinda to them but I'm excited for it," McCune said about the coaching staff.
Last year McCune hit .392, had an on base percentage of .526, had 14 RBIs and 26 runs in 28 games. For his high school career he has a batting average of .365 and an OBP of .505.
Last year he played center field, first base and pitched. He doesn't know where he will play at ACU yet.
"He'll probably play center field, that's where he played mostly last year and that's where he likes to play and he's a real good outfielder," Davis said about McCune this year.
At Camp Verde McCune has the nickname "Dawnie Baseball."
"I don't think he's changed since his sophomore year, he's just one of those good kids," Davis said. "Shows up everyday, does what you ask him to do, is not here messing around, focused on the task at hand and I think that's what's led to his success."

More like this story
SUBMIT FEEDBACK
Click Below to: