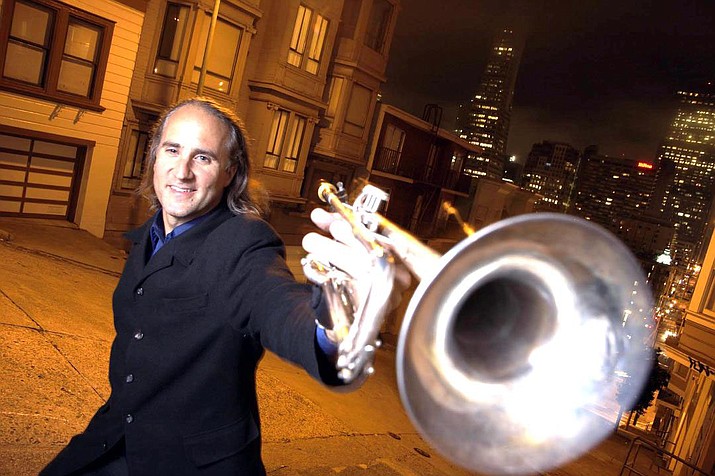 ---
---
Streakhouse89 in Sedona will present jazz luminary Dave Len Scott, starting Tuesday, January 29 and every Tuesday evening through the month of February from 5-8 p.m. in the Bar89 area of the Steakhouse89 lounge.
Raised in Detroit, Dave Len Scott spent 25 years as a freelance trumpeter and pianist, touring with Boz Scaggs and recording with artists on the Concord Jazz record label (Rosemary Clooney, Michael Feinstein, Big Kahuna & The Copa Cat Pack).
For a time he was lead trumpeter and featured soloist with the Glenn Miller Orchestra.
In San Francisco, he was asked to play in Boz Scaggs band. Boz needed someone to play the trumpet lines on his big hits "Lido" and "Lowdown" but also be able to cover some of the keyboard lines.
"I was a cost-effective musician," Scott said. "There were times that I was playing trumpet with my left hand, and at the same time, playing the trombone part on a keyboard synthesizer. I loved playing in Boz's band because everyone was such a great player. The bass player, Richard Patterson, had toured with Miles Davis. The guitarist Drew Zingg had toured with Steely Dan. And Greg Philliganes had toured with Stevie Wonder and Michael Jackson. Even when Boz's band was "jamming" on one chord, it was sublime!"
His musical experience is rich and varied, even playing on cruise ships as part of his journey.
"I started my professional performing career as a classically-trained musician, at the University of Michigan, and then at the University of Northern Colorado," he said. "My first job was on cruise ships, working as a trumpeter and pianist on the Holland America Cruise Line back in the early 1990s. That was really fun. Back then, the ships had true "house bands" that would rehearse with different "acts", sometimes every night, sometimes every week, learning and performing new music all the time. The ship acts were singers, comedians, jugglers and magicians, much like vaudeville back in the early 20th century."
As an educator, Dave taught jazz history, history of American music and philosophy of jazz at San Francisco State University, Sonoma State University, and the California Jazz Conservatory.
Born to play music, he was drawn to the art as a toddler.
"As soon as I was able to crawl up onto the piano bench, I was playing the piano," he said.
He said he was inspired by his junior-high band director Louis Smith back in Michigan, an African-American jazz musician who years before had a record deal with Blue Note records. His favorite piano players were Herbie Hancock, Harry Connick JR, Ahmad Jamal and Miles Davis, all great jazz musicians.
Although trained as a classical musician, jazz is what Dave is all about.
"I like jazz that makes your head bob, even if just a little," he said. "I love the 'coil-like' tension and release of the rhythm of swing music. I love being able to improvise when I play. Great jazz has the best elements of sophisticated harmonies, interesting rhythm, and improvisation. It's just really fun!"
The allure of Sedona can be so different for so many people but for Dave it was all about family that brought him here from the West Coast, moving to Sedona in June of 2018 and now teaching music part-time at Verde Valley School.
"My wife Therese has family in Sedona, my mom lives in Flagstaff and my sister lives in Phoenix," he said. "We are both happy to begin a new life chapter and be closer to family."
Please visit www.steakhouse89.com to make a reservation or call 928-204-2000.
Steakhouse89 is located at 2620 W. S.R. 89A, Sedona.