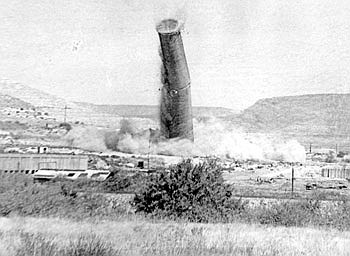 The 430-foot smoke stack of the United Verde Copper Co. smelter was demolished Oct. 2 1966.
Stories this photo appears in:
In 1931, no one could have predicted that a technology inspired by the United Verde Copper Company would be discarded, left to age like wine or cheese and then be dug up to inspire a new economic boom over and over. It first happened in 1959 when the technology of making rolled steel out of copper mining waste slag was dusted off but not used.
By Jon Hutchinson
February 12, 2008