Savanah plays volleyball and sings and likes to do arts and crafts. She said she knows a lot about bikes, math and reading. She feels bored nearly every day except on weekends. When Savanah is bored she watches movies. She would like to be a veterinarian when she grows up.
Stories this photo appears in: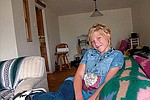 Savanah has a heart of gold. When asked what she would change about herself if she could, she said she'd like to take away every time she was mean to her younger sister and her Mom.