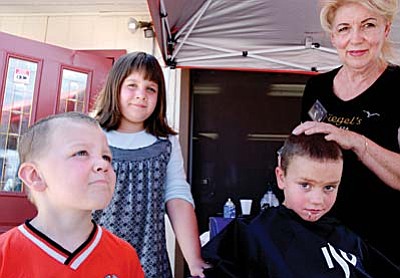 Nancy Siegel is well known for giving free haircuts to children before school started. Nancy enlisted the help of many hair stylists for that event. She later expanded the program to help people looking for work, providing haircuts to men and women. The free makeover for women included makeup. She has helped many people through donations and years of service. For five years, Nancy helped with the food program of the Old Town Mission when Jesse Gamble was director. She also worked for the Children�s Breakfast at the Assembly of God, under Pastor Peters. Nancy also helped raise money for Relay for Life for three years, and she was a member of the Chamber of Commerce for seven years. She was a contributor to the LightHeart Foundation, which provided gifts and visits to the elderly during Christmas season.
Stories this photo appears in:
Community service all in a day's work for Nancy Siegel
Nancy Siegel, owner and operator of Siegel's Hair & Nail Spa, has been selected as Business Person of the Year by the Verde Pride selection committee of the Cottonwood Chamber of Commerce. She was nominated by Kathy Guzman.