Shallots Café manager Blair Preston serves Jeff.
Stories this photo appears in: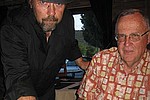 Maybe you knew! And hopefully, like us, you have also eaten shallots at Shallots Café. Located in the space once occupied by Dan's Bistro on 89A, just east of Mexidona, the restaurant opened a few months ago. Shallots roasted with herbs and Roma tomatoes and capped by melted Mozzarella is one of its tasty appetizers.
By Jeff and Suzie Dunn
July 25, 2014