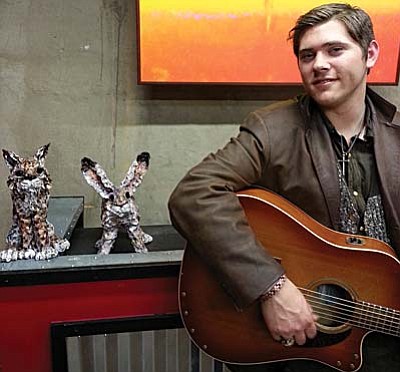 At the New State Motor Company, Patrick Lincoln has vibrant colors of spring on display to compliment new animals hand-formed of clay by Janie Layers. There will be refreshments served and a live performance by Ezra Anderson (pictured).
Stories this photo appears in:

The monthly tradition of Jerome First Saturday Art Walk has taken root and will blossom once again this spring with new artists and studios as well as Jerome's exciting and well-known galleries. Epiphyte Studio and Gallery has joined the lower Main Street art scene with lamp worked glass and black & white photography. It is located above Magpie and next door to The Wary Buffalo, home to Pentimento, the town's tiniest gallery. Stroll the mountain town on April 5th from 5:00 to 8:00 PM or take the free shuttle for an evening of art, live music, food and conversation. Spend the day, have a meal in town and maybe even stay the night at one of the town's delightful accommodations.