The perfect way to jump start a healthy routine is with an unforgettable experience, and Sedona promises just that. There are a few off-the-beaten-path trails that are not only breathtaking, but also range in difficulty for someone just starting out, or experienced pros looking for the next great challenge.
Stories this photo appears in: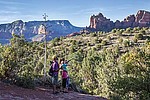 There are plenty of reasons to make hiking part of a daily activity routine in 2015. With Sedona as the backdrop, visitors will rush to the illustrious trails spanning the red rock terrain, with jaw-dropping views of Sedona's landscape and topography. Taking advantage of the backdrop, mountain-goers can bask in the sunshine while keeping their resolutions to be fit in the new year.