In 2011, the AHA found that 326,200 people experienced out-of-hospital cardiac arrests in the United States. Of those treated by EMS, 10.6 percent survived, with the survival rate increasing to 31.4 percent when in the presence of bystanders.
Stories this photo appears in: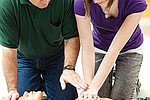 According to the American Heart Association (AHA), most people who experience cardiac arrest die because they don't receive immediate cardiopulmonary resuscitation (CPR).