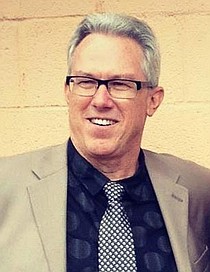 928-634-2241 Extension: 6032
Recent Stories
One of the first Arizona high school track and field athletes to gain national prominence and another who achieved Olympic fame as a teen are among the 2019 inductees in the National High School Track and Field Hall of Fame.

Until the City Council learns that "community" and "city" are not synonymous when it comes to the way these federal grant funds are spent, a lot of folks will reach the conclusion that CDBG stands for Cottonwood Deserves Better Governance.

There is no such thing as instant gratification for those whose job it is to stimulate and invigorate their community's economy. There are more false starts in this race than finish lines.

We've barely turned the page on the calendar to 2019 and already the renewed battle for Upper Verde school district consolidation is taking shape.

As for the ACLU-Arizona, it's curious how the organization took up the cause of one student on this issue as a privacy rights intrusion, and then went out of its way to make sure every media outlet in Arizona knew the student's name.
Saturday at about 3 p.m., Clarkdale police were alerted to a vehicle partially submerged in the Verde River at the Tuzigoot River Access Point.

There are some good lessons – and some not so good – about kids and the way they establish and follow through on the goals they set for themselves.

Arizona music legend passes
If I could, I would build an Arizona musical Mount Rushmore.

A failure to properly notice a Sept. 5, 2017, executive session and then having the meeting without an attorney present has earned the Mingus Union School District a letter of reprimand from the Arizona Attorney General's Office.
Cottonwood police and other area emergency responders are currently at the Yavapai County Annex in Cottonwood following a threat of a bomb placed in the county assessor's office, according to a report on the Cottonwood police scanner.