Warning, if you have health problems do not watch, as this year's Marauder football team will take fans on a ride of emotions that rivals any roller coaster. After dropping a physical football game to the Bradshaw Mountain football team last week, Mingus tonight takes on another tough rival when the Prescott Badgers come to town.
By J.T. Keith
October 6, 2016
Oct. 7-Mingus Union Varsity Football vs Prescott 7 pm.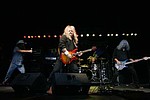 Molly Hatchett headlined Day 1 of the 2016 Thunder Valley Rally in Cottonwood.
By Bill Helm
September 21, 2016
For the second consecutive year, teachers from Cottonwood Elementary School accept donations from Cottonwood Christian Assembly Church. The Friday, July 29 donations included 24 bins with classroom supplies and 61 gift cards for the teachers. Both bins and gift cards came from donations by the church's congregation. "We believe in you," Jerry Trewer, the church's executive pastor told the teachers. "We want to be here to support you. Anything we can do to help." School administrators passed out the supplies and the gift cards during the school's staff meeting. (Photos by Bill Helm)
By Bill Helm
July 29, 2016
Verde Valley Little League Photo Gallery past three games
Cottonwood and Sedona Chambers of Commerce Regional Mixer Tuesday night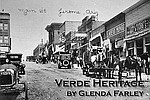 "A numbed crowd watched the home of Mr. and Mrs. Ersel Garrison go up in flames Thursday afternoon while the Cottonwood and Clarkdale fire departments battled to save something of the lovely old home which had been a landmark in the Verde Valley community of Cottonwood for 58 years."