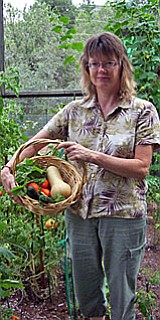 Originally Published: February 27, 2008 1:04 a.m.
It doesn't take much space, but a little garden can make a big difference for our community.
Cornucopia Community Advocates is encouraging anyone with gardening space to contribute to the general welfare of the community by growing vegetables that can be given away through a food bank or Meals on Wheels.
Julie and Harvey Grady are backbones of Cornucopia that has been active in community affairs and forums, having established or participated in Youth Count, MATForce, Youth Commissions, and published various studies, and community resources.
Julie volunteered at the Sedona Food Bank a couple years ago and became aware that many older homebound people subsisted on a very limited diet. "I have a concern about a lot of older people. They often live on macaroni and cheese. We are promoting the concept of neighbors coming together to raise organic vegetables that they may share with those in need."
"It is an old concept that is coming back," says Grady.
"The food bank normally provides canned foods. Occasionally, there is a basket of apples or some cabbage," says Julie. "It is really important to have fresh produce to give to people."
"The concept is to promote sharing and altruism and doing it through volunteers," Harvey punctuates.
He says, "There are other dimensions as well, including commercial growers. We plan on talking with people like Brenda Hauser of Hauser and Hauser Farms to get some ideas and really extend this effort."
Harvey and Julie have turned their words into action. Last year, the couple dug into the soil at their Pine Valley home and invited neighbors and friends to join the effort. They got a good turn out and produced a small crop of vegetables.
There is some work involved.
"The soil needs rebuilding and nutrients. We have found out how to compost and build a pile to help make the garden grow better. We have prepared the soil, turned it and planted rye seed.
Rye is the grain from which rye bread is made. But it also is an intense producer of green biomass to improve the soil. A rye cover crop can add about 25 pounds of organic matter to your 200 square foot garden bed. It grows in the fall and winter and is hardy as far north as Canada.
They are also encouraging the use of Earth Boxes or their homemade equivalent for those who don't have enough property or space for a formal garden.
One volunteer is Jennifer Young. She is a student in the Cooperative Extension Service Master Gardener program. The effort is connecting with other local programs, including those of Adele Seronde, the founder of Gardens for Humanity in Sedona and John Neville, a founder of Sustainable Arizona.
Young says the Yavapai County Cooperative Extension service in Cottonwood has much information about our specific soil conditions. Their resources are online. In fact, the entire Master Gardener's handbook is online, and the printed material is available at the office. In addition to the Prescott Extension office, there is an office in the Verde Valley at 2657 Village Drive just off Western Drive in Verde Village. (Phone 639-8176 or online: http://ag.arizona.edu/yavapai/)
"There are a lot of different soil types in the Verde Valley. In the Southwest there is a general lack of dying and dead plant material. Most soil here needs nutrition in a form that can be absorbed. That includes cow and animal manure, straw, leaves, anything that came from a green source originally, even sawdust and newspaper. It keeps in the moisture and adds tilth to the soil."
"If you have sandy loam or loamy sand, it doesn't have a lot of basic nutrition, but it is a fairly good texture to add compost versus a texture like clay soil."
"The basic information you need is to understand the type of soil you have and how to change it economically and environmentally. Water is also a challenge."
With the recent moisture to loosen the soil, now is a good time to start digging and sharing.
More like this story