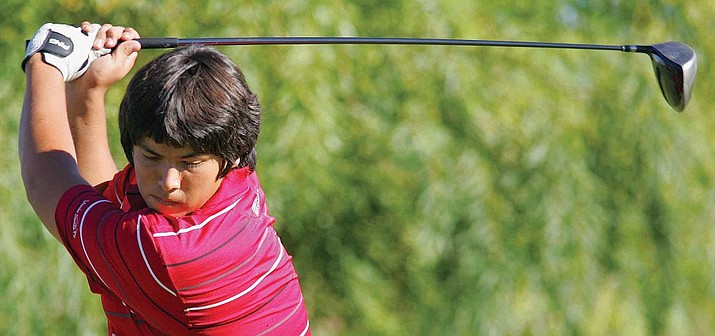 Originally Published: October 14, 2008 1:19 p.m.
The Mingus Union golf team has had its ups and downs this season but overall the top five or six golfers have been improving steadily and getting better on consistency.
That consistency took a dip over the weekend when the Marauders traveled to Rio Rico, south of Tucson for a golf tournament. Bad weather and the long trip ended up being a recipe for an unsuccessful tournament.
"Hopefully we can put this weekend behind us," said coach Craig Mai.
As the season schedule winds down the team is coming together and looking forward to the regional meet in Flagstaff. The team's No. 1 golfer, Ryan Roland has consistently held the top spot, but has had injury to his ankle. He hasn't been able to do much walking on it and the team is anxiously awaiting the results of the MRI test.
The rest of the top group consist of Richard Paynter, Wally Wilburn, Travis Duwyenie and Dillon Fielitz.
In the Grand Canyon region, Sinagua leads the region and is the strongest team, but then after that, there are three teams vying for the other spot that will advance them to state. In the regionals, Mingus, Flagstaff and Bradshaw Mountain will have the best chance to take the No. 2 spot and at this point it is a toss up as to which team will get it.
During this season the Marauders have faced Bradshaw Mountain a few times and split with them for the most part. Mingus has only faced Flagstaff twice and Mingus was beaten both times...but the Marauders never had their top five or six against Flagstaff's top players, so regionals will be the best against the best ... as long as Roland can get back out on the greens.
Although the Marauders struggled in Tucson, it was the first real mental test for the team in windy and sometimes rainy conditions.
"I felt the kids didn't have the mental toughness to fight through and put the weather behind them," said coach Mai. "They let it affect us. But they can learn from it and do better next time."
The Marauders have a full schedule as they battled at Coconino on Tuesday, Sinagua on Thursday and then they go to the Mt. Ridge Invite this weekend.
More like this story