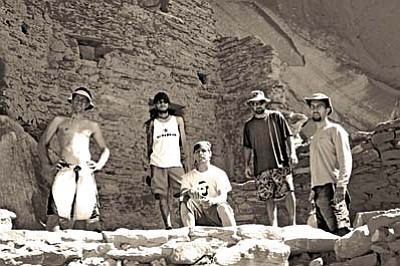 Originally Published: July 10, 2010 1:36 p.m.
Telephone Etiquette Workshop offered
July 21
InHouse Trainer Services will offer a three-hour telephone etiquette workshop at Jerona Java Café, 677 E. Mingus Ave., across from the post office in Cottonwood. The workshop will be held from 1 p.m. to 4 p.m., and is open to all. Seating is limited.
The purpose of the workshop is to offer local, affordable, and professional telephone training to businesses with employees answering the telephone. The workshop will train on topics such as: Answering the telephone in a professional and welcoming manner; projecting a positive company image; handling irate callers; and taking clear and concise messages for co-workers.
The cost of the workshop is just $30 for pre-paid participants, and $40 at the door. Refreshments are included. For more information, call Karolyn Ericson at InHouse Trainer Services, at (928) 649-9524.
Contra in Cottonwood this weekend
July 17
A really fantastic contra dance is on the horizon for Saturday at the Cottonwood Civic Center, 805 N. Main St. in Old Town. Summertime dances in Cottonwood tend to draw great crowds, and whoever shows up this month will be glad they did. Come dance to the exciting sound of "Pick and Holler" an Old Time String Band. Pick and Holler is a new band, made up of musicians that are not necessarily new to the Arizona dance scene. "Pick and Holler" plays traditional Appalachian Old Time String Band music; the music they play was made for dancing, and that's what this band is ALL about. Pick and Holler is Carolyn Camp (fiddle), Matt Minjares (banjo), Jesse Anderson (guitar) and Lindsay Cates (upright bass).
Teaching session is at 6:30 p.m. and the dance starts at 7 p.m. Cost is $6 per dancer, $5 per student, $3 for dancers 16 and under. Wear comfortable clothes; no partner or experience needed. For more information contact Deb Comley at (928) 853-7985.
Forest Service seeks public feedback on potential Wilderness areas
July 27
The Coconino National Forest will holding public meetings to solicit public feedback on 10 potential Wilderness areas. The areas being evaluated include: Strawberry Crater, Railroad Draw, East Clear Creek, Barbershop, Walker Mountain, Cedar Bench, Black Mountain, Cimarron-Boulder, Hackberry, and Davey's. The forest has also posted a draft Potential Wilderness Area Evaluation Report for public review on-line at http://www.fs.fed.us/r3/coconino/projects/plan-revision/index.shtml.
The local meeting will be Tuesday, July 27, 5:30-7 p.m. at Red Rock Ranger District Office, 8375 SR 179, Village of Oak Creek.
The meetings will begin with a short presentation followed by a question and answer period, and then an open house style format to allow the public to browse posted materials, talk to Forest Service personnel and provide feedback.
For more information, please contact Ms. Yewah Lau, Forest Planner, by phone at (928) 527-3411 or email at ylau@fs.fed.us. Please send comments to: Coconino National Forest, Attn: Plan Revision Team, 1824 S. Thompson St., Flagstaff, AZ 86001. Or email to: coconino_national_forest_plan_revision_team@fs.fed.us.
Entry forms available for Chamber Golf Tourney
July 24
Time is running out for the eighth annual Cottonwood Chamber Golf Challenge. Entry forms are still available at the Chamber office, Verde Santa Fe Golf Course and Butler-Leavitt Insurance as well as the ability to register online at www.cottonwoodchamberaz.com.
The tournament registration will begin at 7 a.m., and a Shotgun start is scheduled for 8 a.m. at the beautiful Verde Santa Fe Golf Club. Price includes a continental breakfast and wonderful buffet lunch catered by Verde Santa Fe Grille.
To participate as a player, sponsor or to donate a prize, please contact Lana or Christian at the Cottonwood Chamber office at 928-634-7593 or email Christian at: Christian@cottonwoodchamberaz.org.
Learn about the effects of diabetes on the kidneys
July 26
Verde Valley Medical Center's Diabetes Education Program has its July meeting 5-7 p.m. in VVMC's Conference Rooms B and C. Internal Medicine and Nephrology Physician Thomas Nuemann, M.D., will discuss the effects of uncontrolled diabetes on the kidneys, stages of kidney disease and medications that can affect the kidneys.
To R.S.V.P., call VVMC at 928 639-6346; walk-ins are welcome.
To learn more about the programs and services offered at Verde Valley
Medical Center, visit VerdeValleyMedicalCenter.com.
CASA to meet
July 19
The Central Arizona Sportsman's Association will conduct its' monthly meeting at 7: p.m. in Yavapai County Board of Supervisor's Meeting Room at 10 S. Sixth St. in Cottonwood. (Director's meeting at 6:15 p.m.). Election of officers and board of directors for August 2010- July 2011 will take place at this meeting.
For more information, please call Skip Heyer, President (928) 639-4205, or Dave Monson, Public Relations Director (928) 821-2482.
Cottonwood veteran to receive citation earned in 1945
July 26
At Veterans of Foreign Wars Post 7400 at 705 E. Aspen St. in Cottonwood, a World War II veteran, Robert Salkind will be presented with the Philippine Presidential Unit Citation he earned in 1945, having been engaged in the battle for Manila and the eventual liberation of the Philippines from the JapaneseThe award will be presented by a representative of the Philippine Government, as part of a service recognizing all WWII veterans and especially veterans of the battle for the Philippines.
To this end, VFW Post 7400 is extending an invitation for all WWII veterans to attend the 1 p.m. ceremony. If you fought in the Philippines and earned the Presidential Unit Citation, we would like you to be part of the award ceremony, at which you will also be presented with a citation. This invitation is also extended to widows and/or children of a deceased Philippine P.U.C. awardee.
Any WWII veteran wishing to attend the ceremony is asked to call Ron Luce at 649-2129 and provide your name and theater in which you fought. If you, or your deceased husband or father, were awarded the P.U.C., and wish to be part of the ceremony, please provide name, rank at the time, and unit to which the awardee was attached. In order to ensure that we have sufficient citations on hand, anyone wanting to be part of the ceremony must provide this information by July 16.
Verde Ditch meeting
July 12
The Verde Ditch will have an open meeting for all shareholders at 5 p.m., at the ditch company offices 435 S. First St. in Camp Verde. The meeting will be an opportunity for shareholders to here about the ditch's negotiations with Salt River Project concerning water rights within the ditch's service area.
Christmas in July at Fort Verde
July 17
Fort Verde celebrates Christmas in July, in conjunction with the Camp Verde Promotions 19th annual Corn Fest, held at the Town of Camp Verde's community Center. Start out your Saturday by making your own Victorian ornament to hang on your tree or to give away as a keepsake at the Victorian ornament-making workshop from 10 a.m. to 2 p.m. Donations will be accepted to cover cost of materials.
Admission is $4 per adult; children 7-13 are $2.; 6 and under are free.
Then on Sunday, July 18, at 11 a.m., enjoy an 1880s Church Service at the Fort.
Fort Verde State Park is located at 125 E. Hollamon, two blocks off Main Street in Camp Verde. There is an entrance fee. Call (928) 567-3275 for more information.
Cake/Dessert Walk at Corn Fest
July 17
Camp Verde Promotions will be sponsoring an old fashioned cake-walk at the 19th annual Corn Fest. They are choosing to cal lit a Dessert Walk.
Are there any bakers out there that would like to contribute their best creation to this fun event? They are asking that nothing needs refrigeration, please. They would love to have pies, cookies, brownies - whatever your specialties are. Each contributor will receive a gift certificate for Sweet Grace Restaurant.
Tickets to participate in this event will be $1 each and there will be a limit of 15 participants in each round.
Please call 300-7077 or e-mail to candrouse@aol.com to let them know if you will be contributing to this fun event.
Idol contest
July 17
Camp Verde Promotions would like to sponsor the first Camp Verde Idol contest at the 19th annual Corn Fest. Everyone is welcome to participate and judging will be based on audience participation.
So, dust off those dancing shoes, polish up your best singing voice or practice up on whatever your talent is and show the world - OK at least the great people of Camp Verde - what your soon-to-be world famous talent is.
Please, if you are part of an organized band, singing group, dance troupe, etc. we appreciate your talent but would like to give the 'rest of the talented people' an opportunity to spread their wings.
Call 300-7077 if you would like further information or to get your name on the list of performers for the evening.
Every Child ready to Read
Every Child Ready to Read Pre-Reading skills for children ages birth to 5 years old is every Saturday in July from 10 a.m. to 11:30 a.m.
Clarkdale Memorial Library presents Every Child Ready to Read Early Literacy Project. Sponsored by a grant from the Arizona State Library, Archives and the Public Records, this program is designed to teach parents, grandparents, care givers, babysitters and or child care professionals the six pre-reading skills children need in order to learn how to read.
Classes will be presented in English or in Spanish at the Clarkdale Memorial Library. Participants will receive a free "goody bag" of books, art supplies, handouts, or other items to help promote their child's literary success.
Other interested groups, civic organizations, churches, etc. are invited to have a class presented at their location. Please e-mail kathleenekholm@go.com to schedule.
Clarkdale, college mixer
Aug. 3
At 6 p.m., the Clarkdale Chamber of Commerce and Yavapai College are co-hosting a special event, which is open to all chamber members and the general public. This mixer will be held at the M Building, Yavapai College Verde Campus on Black Hills Drive in Clarkdale. This building, which houses the library and an art gallery, features gorgeous panoramic views of the Verde Valley.
This unforgettable event will feature fabulous Arizona wines, appetizers, local music and original work by local artists. As evening shadows grow long and temperatures cool, guided tours will be offered of the new vineyard on campus. Tom Schumacher will give a brief presentation about the viticulture program and the vineyard tour.
Entry to the mixer is $8 and a raffle will be held. Fifty percent of the funds raised at this mixer will be donated for a scholarship for the Viticulture program. The Clarkdale Chamber of Commerce is delighted to support the burgeoning Verde Valley wine industry and the educational opportunities offered at Yavapai College, Verde Campus.
If you'd like to contribute, volunteer or have any question, please contact the Clarkdale Chamber of Commerce at (928) 634-9438, or stop by the Chamber Caboose on Ninth and Main Street when the flags are flying.
Republican Club Meeting at VFW
July 13
The Mingus Mountain Republican Club will hold its July luncheon meeting at the Veterans of Foreign Wars (VFW) Post 7400, 705 E. Aspen St., Cottonwood. The meeting starts at 11:30 a.m. Everyone is invited. Speakers will be Republican Congressional candidates giving short presentations with questions and answers. Other speakers will be Tom Jenney, Arizona Director of Americans for Prosperity and Bob Windsor of the Cottonwood T-Party. Other candidates for office will be recognized. The candidates will distribute campaign information.
Lunch (an open-faced pot roast sandwich) is available for $10. For reservations contact Brenda Zenan at (928) 301-5885 or e-mail: aznaniecki@aol.com.
Candidates address Democrats
July 22
Democrats of the Verde Valley will present more candidates for Arizona state offices. Felicia Rotellini and David Luhan, both candidates for Attorney General, will inform voters of their qualifications and platforms.  Manuel Cruz, Democratic candidate for Mine Inspector, will also speak.
All are welcome at 6:30 p.m., Pine Shadows Clubhouse card room, 2050 SR 89A, Cottonwood.  Call (928) 649-0847 or 634-7563 for further info or a ride.
AARP Driver Safety Class
July 31
The American Association of Retired Persons has scheduled a Driver Safety Class from 8 a.m. to noon. Open to all licensed drivers, the course will take place at the Verde Valley Senior Center, 500 E Cherry St., Cottonwood.
The Driver Safety program is a four-hour refresher that is available to drivers of any age.  The class focuses on the physical changes that accompany aging, and teaches drivers to compensate for these changes.  There is a $14 charge for this class, and AARP members will get a $2 discount.
Class participation is limited to 35. Please call instructor Liz Roland at (928) 567-5288 if you are interested in attending this class.
Hilltop Christian Preschool's Open House
July 31
Enjoy an opportunity to meet the teachers, check out the classrooms and enjoy refreshments while your child participates in a craft activity during the Hilltop Christian Preschool Open House, 4:30-6:30 p.m.
Hilltop Christian Preschool offers a safe and healthy Christian learning environment that caters to the different developmental stages of your preschool child. We offer a variety of morning classes from 2 to 5 days a week. The school year is Aug. 4, 2010 – May 20, 2011.
Limited scholarships are available. Hilltop Christian Preschool is an educational ministry
of Faith Lutheran Church, located at 2021 E. Fir St., next to Mingus Union High School.
U.S. Constitution Seminar
Aug. 7
Making of America presents a one-day U.S. Constitution Seminar at American Heritage Academy, 2030 E. Cherry St., Cottonwood. Registration is at 8 a.m., and class is 8:30 a.m.-5 p.m.
This class is for anyone that wants to reunite themselves with the basic principles that the Founding Fathers brought to the table when they wrote this great document. The Constitution was written in order to crate a free nation. In order for us to protect this freedom we must understand it and in order to understand it we must educate ourselves.
Lunch will be provided along with a guest speaker. Tickets are $20 per person, which includes a workbook. This is a nonpartisan, nondenominational education seminar.
For ticket and class information, contact Jay or Wendy Parkison at (928) 300-9197. Tickets will be sold until Aug. 5 or until they are sold out. Tickets are non-refundable.
Horseshoes in VVPOA
The VVPOA is going to hold horseshoe pitching every Friday at 6 p.m. at the clubhouse on Broken Saddle Drive. There will be a prize pot. Hamburgers and hot dogs will be available. For further information please call James at 646-5598.
Vets: Take vans to VA
American Legion Post 25 Cottonwood has Transportation vans to VA appointments, Disabled American Veterans DAV. Call (928) 214-8170 Monday-Friday, 9 a.m.-noon.
If you get a message leave your name, phone number, date of appointment, and at what clinic.
They are also looking for volunteer drivers, one day a week or a month. If you want to help our veterans please call (928) 634-3004 to sign up now.
Volunteers needed to teach financial education
Catholic Charities Community Services is seeking volunteers to teach financial education to people in need. Catholic Charities provides training to those interested in volunteering to teach financial education. Financial education classes include Banking Basics, Building a Better Budget, Choosing and Using Credit Wisely, and Taking Charge of Your Credit. The classes are conducted in partnership with Arizona Saves. The financial education classes are part of Project HOPE, a Catholic Charities program that helps low- to moderate-income families and individuals improve their financial situation and live the life of their dreams through a continuum of education, resource building and mentorship. To learn more about becoming a financial education volunteer, call (928) 634-4254 or e-mail tsimms@cc-az.org.
Clemenceau Museum seeking photos for book
The Clemenceau Museum is looking for photos relating to the history of Cottonwood for an upcoming book. Any photographs showing people, places, events, relevant to ranching, dairies, the Clemenceau smelter, railroads, kilns and brick-making, sawmills and lumber, the Marcus D. Lawrence hospital and staff, the airport, the early commercial district (now Old Town Cottonwood), the town of Clemenceau, or virtually any aspect of life in the Cottonwood area from the early 20th century through the 1980s are welcome.
Photos will be carefully scanned and returned to owners, with credit given to donors for any published photos. It is hoped the book, covering the history of Cottonwood, will be ready for publication in the autumn of 2010.
If you do have photos, please contact Museum Director Helen Killebrew at (928) 634-5414, or leave a message at the museum, 634-2868 or email: clemenceauheritagem@qwestoffice.net.
Parkinson Water Aerobics begin
New Parkinson Water Aerobics Class now being held each Wednesday, 11 a.m., at Resource Physical Therapy, 825 W. Mingus, Cottonwood. Call (928) 451-4949.
Parkinson Exercise Classes, sponsored by Muhammad Ali Parkinson Center, are held each Friday, 11 a.m., at Verde Valley Medical Center in Cottonwood. Call (928) 451-4949.
Get a military welcome home
The Verde Valley American Legion Riders are trying to contact all family members in the Verde Valley that have a loved one in the military at this time. The objective is not only to meet the families of these veterans but also to ask to be a part of their homecoming. Past homecomings have been accomplished by providing a parade through the area that the veteran is from and then ending at the American Legion either in Cottonwood Post 25 or Camp Verde Post 93 with the support of the honor guard and flag column. Some family members have the ceremony end at their homes. Just call and give the Legion Riders the date of the return. John: (928) 567-0224.
Buena Vista recruits childcare providers
Buena Vista Children's Services, Inc. is here to assist you through the process to become a DES-certified child-care provider. Applications are processed at no charge. As a self-employed professional, receive ongoing training, provide quality care with early childhood learning activities and consistently meet or exceed health and safety standards.
From fingerprints to home inspections, a recruitment specialist is there for you. For more info, or to start your free application, call Buena Vista Children's Services, Inc. at (928) 451-5755 or 1-866-646-5200; or email js.bvcs@gmail.com.
Get help with your taxes
For 26 years AARP/IRS has provided a program for those in our community to have their taxes prepared and filed. They will be at the Verde Valley Senior Center, 500 E. Cherry St., Cottonwood Tuesday, Wednesday and Thursday, 8:30 a.m.-3:30 p.m.
There is no age limit and you do not have to be a member of AARP. Call (928) 634-5450 or you can just drop by the Senior Center and make the appointment in person.
Verde Valley Singles meet
The Verde Valley Singles have Meet & Greet on Second Saturday only from 5:30 to 7:30 p.m. For information, visit the Web site at www.verdevalleysingles.com, e-mail verdevalleysingles@yahoo.com or call Marge at (920) 723-2335 or Charlie at (928) 274-2345.
Learn to play Horse Soccer
Verde Valley teams of the Arizona Horse Soccer League meet to play Horse Soccer the fourth Sunday of every month from 10 a.m. to 4 p.m. at the Verde Valley Fairgrounds. Cost is $10 a match for members or $15 if you are not. Membership is $35 a year. Practice is every Sunday at 11 a.m. Men, women and youth are invited. Just bring a horse.
For more information, visit www.azhorsesoccerleague.info/ or contact Monika Snyder at Monika@azhorsesoccerleague.info or call or text Holly at (928) 300-4132.
Get the seniors moving
According to the results of a recent national survey of seniors and adult children, staying physically active is a major challenge for seniors. Lack of activity can lead to a downward spiral of poor health resulting in frailty, a condition that threatens the mind, body and social life of older adults.
Family caregivers who can encourage and integrate physical, mental and social activities in seniors' lives are helping them ward off frailty and stay healthy. With that in mind, local HISC senior care experts are launching a program designed to help keep seniors engaged and fit. Resources include a specially designed Website: www.GetMomMoving.com with practical and educational tools for seniors and their families.
For more information, please call Ann Weaver, community service representative, Home Instead Senior Care at 649-3316.
International Business Networking
BNI, the Verde Valley Difference, is an international business networking and referral organization that meets every Wednesday at 7 a.m. at Sweet Jill's Restaurant in Cottonwood. For more information contact Alan Freedman at (928) 639-3828.
Sweats for Vets
The American Legion Auxiliary Post 25, 480 Calvary Way, Cottonwood, is collecting Sweats for Vets, a program to obtain new sweats for Vets that have become disabled with a loss of a limbs.
They will be delivered to the VA Hospital in Prescott and other Veterans facilities where the need exist. Just in time for the cold winter that is approaching Please drop off your contribution to Post 25, there is a large box marked Sweats for Vets. Call 634-3004.
City Council meetings get televised
The Cottonwood City Council meetings are now televised. CableOne Channel 20 is now the City of Cottonwood Government Channel. Yavapai Broadcasting has been recording Cottonwood Council meetings since the beginning of September 2009 and has the Oct. 6 regular City Council meeting available on their web site www.myradioplace.com. As of Oct. 20, Yavapai Broadcasting will not only have them available on-line but has been working in conjunction with local cable company CableOne, who is now broadcasting the meetings live on channel 20 and will replay them at various times throughout the week.
As this channel develops, more programs will be broadcast, such as local news, public service announcements, special events, etc.
Work your baby's brain
Cloy Dellaripa, M.C. presents Baby Brain Time at the Cottonwood Library Kids Zone. Bring your baby to play, socialize, learn, and have lots of fun every Tuesday at noon.
Baby Brain Time at the Cottonwood Library Kids Zone is a program designed to enhance your baby's sensory development and to promote attention, bonding, and communication between babies and toddlers, from birth to 24 months, and their parents or caregivers.
It's free.  No registration required.
2010 Verde Valley calendars
Remaining 2010 Verde Historical Society Calendars, featuring Verde Valley nonprofit organizations, have been reduced to only $5. They make great stocking stuffers and reasonably priced gifts, while proceeds assist the Clemenceau Heritage Museum in preserving and showcasing our local history at no cost to the public.
Each month features a different organization with photos and a description of its activities. Included are the Lions and Rotary Clubs, the Old Town Mission, the Humane Society, Caballos del Sol, Boys and Girls Club, El Valle Artists, the 4-H and the FFA, and the Old Town Association, among others.
The calendars are available at the Museum during regular hours: 11 – 3 Fridays – Sundays, and 9 – noon Wednesdays. The Museum is located on the corner of Willard and Mingus in Cottonwood. Tel: 928-634-2868.
Bingo at the VFW
The VFW Post 7400 at 705 E Aspen St., Cottonwood has bingo every Thursday 7:-10 p.m. and Sunday 1-4 p.m. Doors open two hours before start, and the kitchen begins selling food one and a half hours before bingo starts. There are 10 regular games with a cashball, and seven special games, including two progressive games, and a $1,000 blackout in 50 numbers. Sunday also features three speed bingo games beginning at 12:30 to get you warmed up. Call (928) 649-2129.
Volunteers train at Hospice Compassus
Volunteer training by Hospice Compassus is continuing at the public library in Cottonwood every Wednesday and Friday afternoon for the next five weeks. Classes run from 1 until 4 p.m. in the Meeting Room. After completion of the classes, volunteers will become a Certified Non-Medical Volunteer and be qualified to do volunteer activities with any hospice agency.
In an effort to make this vital training available to the most people in the upper Verde Valley, registration will continue for the next two weeks. To register for these classes, call the Hospice Compassus Volunteer Coordinator at (928) 284-0180, ext. 111.
After-School Reading Club starts
Join the after-school Reading Club in the Kids Zone at the Cottonwood Public Library. You don't even have to read…they'll read to you. The club meets Mondays (except holidays) 3:30-4:15 p.m. All elementary school-age children are welcome. For more info, call Youth Services at (928) 634-7559.
Sing with Verde Valley Voices
The Verde Valley Voices practice each Tuesday from 6:30 p.m. to 8:30 p.m. at the On The Greens clubhouse located at 969 W. On The Greens Boulevard off historical State Route 89A (on the way to Clarkdale). This is a non-audition choir open to all. For more information call (928) 649-3172.
What's cookin' at the American Legion
Vince's Kitchen hosts its Famous Friday Night Fish Fry from 5 p.m. to 7 p.m. Guaranteed you will come back again and again.
The kitchen is open daily: Lunch Tuesday through Friday, 11 a.m.-3 p.m. Evenings Wednesday, Friday and Saturday 5-7p.m.
American Legion Post 25, 480 Calvary Way, Cottonwood. Call (928) 634-3004.
Depression Support group starts
The Depression and Bipolar Support Alliance of Yavapai County has added Cottonwood to its many locations. They offer free, open, confidential peer support groups. Call (928) 925-3578
Artists invited to Creativity Pool
Vic and Al's Creativity Pool of Resources (aka CPR for Artists) meets at Cottonwood Public Library at 6 p.m. every first, second and third Thursday. This growing network of local and visiting artisans welcomes new members, whatever their creative interest or skill level. No dues or fees. Adults must accompany minors. Call (928) 646-3888.
Jerome
End of Summer Rock 'n' Roll Bash
Aug. 21
Jerome rocks out the summer with The Knuckleheads in concert in Spook Hall. The End of Summer Rock 'n' Roll Bash will be another great event in Jerome. Dinner starts at 6:30 p.m. with old-fashioned summer fare including hot dogs, Sloppy Joes, baked beans, potato salad (vegetarian menu, as well), ice cream sandwiches, popcorn and snacks all night. The music begins at 8:00 and continues until midnight. This is an affordable night out with a $5 entry fee, $5 per plate dinner and full cash bar. The Jerome Chamber of Commerce sponsors the party with proceeds going toward funding the groups many projects. For more information contact Coleen at (928) 649-3847 or Diana at (928) 634 -2604.
Free legal services for seniors in Jerome
Northern Arizona Council of Governments (NACOG), Area Agency on Aging's Legal Advocacy for Seniors Program is at the Jerome Fire Department the third Thursday of the month. The Legal Program serves seniors 60 and older or married to someone 60 and older whom other wise cannot obtain council. The Legal Program provides services in the areas of civil and administrative Law - no criminal law. They prepare legal documents such as: Wills, Beneficiary Deeds, Quit Claim Deeds, Powers of Attorney, Living Wills/Advance Directives, Special Needs Trusts, Income only Trusts and, Codicils. We can assist with Social Security disputes, consumer complaints, and bill payment issues. There are no fees, this service is provided for donations only. If you have any further questions or to schedule an appointment please call Kelly O'Donnell at (928) 213-5246 or 1-877-521-3500 or by e-mail at kodonnell@nacog.org .
Sedona
Sedona Psychic/Holistic Fair
July 11
The Sedona Psychic/Holist Fair is 9 a.m.-5 p.m. at Poco Diablo Resort, 1752  SR 179, Sedona. Admission is $5 each but no admission charge to all of the free lectures every hour throughout the day, and drawings for free readings and sessions, CDs, books, DVDs, and angel cards.   All readings/sessions are 15 minutes. Each vendor sets their own fee for a reading/session. Purchase tickets at the door and use them for a reading/session with the vendor of your choice. Vendors of jewelry, healing tools, and other physical merchandise need to be paid in currency other than tickets.
For information, all (517) 214-4592 or visit www.sedonapsychicfair.com.
Raw and Vegan Food Potluck
July 18
Meet health-conscious people at Mago Healing Center in Uptown Sedona for the Inaugural Sedona Raw/Vegan Food Potluck Gathering. Despite the name of the event, interested people don't have to be Raw Foodies or Vegans. This gathering is for anyone who is interested in eating healthy foods and sharing healthy lifestyles.
The event begins at 11 a.m. at Mago Healing Center, 340 Jordan Road. To RSVP, or for more information, call (928) 274-2957 or 567-7897. Interested parties can also visit www.meetup.com and search "Sedona Raw/Vegan Food Group."
Sarah McLean inspires modern mysticism at Magdala Celebration
July 24
Sedona resident and businesswoman Sarah McLean is one of 10 speakers at the seventh annual Mary of Magdala Multi-Faith Celebration, "Woman: Creation to Compassion," sponsored by the Celebrating Women Witnesses Ministry of Sedona, 8:30 a.m.-3:30 p.m. at St. John Vianney Church, 180 Soldiers Pass Road, Sedona. She will address Modern Mysticism.
The cost is $25 and includes lunch. For reservations contact Barbara Litrell (928) 649-0135 or blitrell@aol.com.
Prepare for Fiesta del Tlaquepaque
Sept. 11
The 37th annual Fiesta del Tlaquepaque is 10 a.m. to 5 p.m. celebrates Mexican Independence Day with dancing, folk music, fabulous food, strolling Mariachis, kids events and much more at Tlaquepaque Arts & Crafts Village, 336 State Route 179 in Sedona. Admission is free. Call (928) 282-4838 or visit www.tlaq.com.
Sedona Rangers looking for dedicated volunteers
Do you have an interest in assisting at community events, learning new skills, helping to protect Sedona's parks and open spaces? Do you enjoy meeting and greeting people from around the world? Are you interested in being a member of a small group of individuals dedicated to public service?
If you do, the Sedona Department of Parks and Recreation invites you to consider joining the Sedona Volunteer Park Rangers.
For the past three years, the rangers have become a familiar icon in Uptown, answering visitor questions, having their picture taken, chatting with merchants, responding to incidents and assisting with community events. They are also frequently seen patrolling the city parks and assisting with city parks and recreation programs.
Rangers are required to provide a minimum number of volunteer hours per week, undergo fingerprinting and a background check, be willing to be trained in basic medical emergency services and have a passion for helping visitors and the community.
If you are interested in learning more about the Sedona Park Ranger program or think you might want to join, we invite you to pick up an informational packet and application at the Department of Parks and Recreation office located at City Hall, 102 Roadrunner Drive, Sedona.
Sedona Parks & Rec water aerobics
The City of Sedona Parks & Recreation Department hosts water aerobics Monday through Friday mornings from 9 a.m. to 10 a.m. at the Villas of Sedona indoor swimming pool. Located at 55 Northview Drive in Sedona, it's conveniently located for the community to attend a great class. Class fees for 2010 are $5 drop-in fee, or discounted punch passes. Save 20 percent by purchasing an $80 pass, good for 20-visits, or a $40 pass, good for 10-visits. Passes do not expire until the punches have been used up.
For more information please contact Parks and Recreation at 282-7098 or reference our website at www.SedonaAz.gov.
Sedona Professionals
Sedona Professionals is a nonprofit business referral organization that provides a relationship-building and networking environment to its members each week. The group meets every Wednesday morning at Orchards for a breakfast meeting at 7:15 a.m.
For information on attending a meeting visit the Web site at www.sedonaprofessionals.org or contact Lee Congdon at (928) 300-5050.
Hospital volunteers needed
Verde Valley Medical Center is seeking volunteers for its Sedona campus, and EntireCare Sports Medicine locations in West Sedona and the Village of Oak Creek. Volunteering is a great way to get involved and stay active. A commitment of four hours per week is suggested.
Volunteers are matched with assignments that fit their personality, abilities and schedule. The diversity of volunteers – from homemakers to professionals, students to retirees, young to old – makes VVMC stronger and better able to serve the healthcare needs of the community. Key qualifications for volunteers are a helpful, caring attitude and a respect for confidentiality.
Along with the satisfaction of helping others, some additional benefits of volunteering at VVMC include discounted meals, discounted use of the EntireCare Rehab Services fully equipped gym, and continuing education classes.
For more information please call the Volunteer Services department at (928) 639-6550.
Verde Valley
New veterans services schedule
The American Legion and Veterans of Foreign Wars veterans' service officer will now be available from 9 a.m. to noon on the second and fourth Monday of each month. All services are completely confidential, stress free and free to all vets. For additional information, or to make an appointment, call Jerry Towle at (928) 300-0580 or Dave Stewart at (928) 451-1664.
Apply to be a Volunteer in Protection
The Yavapai County Volunteers in Protection (VIPs) is a 501-C3 nonprofit organization working under the umbrella of the Yavapai County Sheriffs Office.  The VIP program is looking for Volunteer Candidates to apply for the newly designed VIP program.  Volunteer positions in Administration and Patrol are currently available.  No previous law enforcement experience is required.  Positions are available in the Verde Valley, VOC, Rimrock, and throughout Yavapai County.  Candidates must be residents of Yavapai County, and over 18 years old; both men and women are urged to apply. For more information, contact Y.C.S.O. Volunteer Services @ 928-771-3281.  See us on the web at www.ycvip.org
Free pH Soil Analysis
The University of Arizona, Yavapai County Cooperative Extension offers free pH soil analysis. The weather is warming up and it is time to get gardens ready for planting. To increase your chances for a successful harvest, knowing the pH of your soil could make all the difference. Soil pH is most critical with respect to nutrient availability. In this area our soils tend to be more alkaline (ph of 8 or higher) and vegetable gardens prefer a pH in the range of 5.5 to 7.5.
To have your soil tested, take samples from various sections of your garden. Mix the samples together. Bring no more than 8 ounces in a glass jar, plastic bag, or paper bag to the Cooperative Extension Office in Cottonwood at 2657 Village Drive. Office hours are Monday–Thursday, 9 a.m.-noon and 1-4 p.m.
The University of Arizona Cooperative Extension has publications and information on gardening and pest control. Call (928) 646-9113 ext. 14.
Victim advocate volunteers needed
The Victim Services Division of the Yavapai County Attorney's Office is looking for volunteers to serve as victim advocates. Volunteers provide support to victims of crime. Volunteers provide victims' rights information, victim input to judges, courtroom advocacy as well as some clerical assistance within the Victim Services Division.
A comprehensive training program is provided. Qualifications include: Good listening, communication and people skills, and a desire to help people in need. A criminal background/fingerprint check is required. For more information, or to obtain a volunteer application, please contact Linda at (928) 777-7179.
Join the Lions for great cause
The Clarkdale/Jerome Lions Club, Cottonwood Lions Club, Camp Verde Lions Club need your help and new members for these activities in our community.
Clarkdale/Jerome Lions Club does White Cane days (money collected goes toward eye glasses for children and adults), Concerts in Clarkdale Park (selling pop, water, brownies), Halloween (selling pop, hot cocoa, water, and give away candy). Monies from these fund raising programs goes back into the community.
Donations are made to Police Department, Fire Department, Mingus Union High School Graduation Party, flags to Clarkdale, Oak Creek School on Veterans Day, Camp Tatiyee (a camp for special needs children and adults), Lions Sight & Hearing Foundation of Arizona, Arts and Crafts Summer Program in Jerome.
For more info on Clarkdale Lions Club call Dave Andrews at 634-8207, Cottonwood Lions Club call Ron Black at 639-4602, Camp Verde Lions Club call Gary Greeson at 567-0342 or Wesley Girard at 567-5343.
Meet the Professionals
Sedona Professionals is a nonprofit business referral organization that provides a relationship-building and networking environment to its members each week. The group meets every Wednesday morning at Orchards for a breakfast meeting at 7:15 a.m.
Healthy changes to the WIC Food Program
Yavapai County Community Health Services (YCCHS) administers the Federal program, Women, Infants and Children's (WIC) through a grant with Arizona Department of Health Services for eligible participants. The program began in the 1970s as a health prevention program for young children by providing foods with essential nutrients, such as protein, iron, calcium and vitamins A and C. However, many of the foods were also high in calories and fat. The food package has just recently changed to promote healthier eating by including fresh fruits and vegetables, and whole grain foods such as whole wheat bread, brown rice and corn tortillas and switching to low-fat milk
To find out about eligibility for this program, call Cottonwood at (928) 639-8134.
More like this story