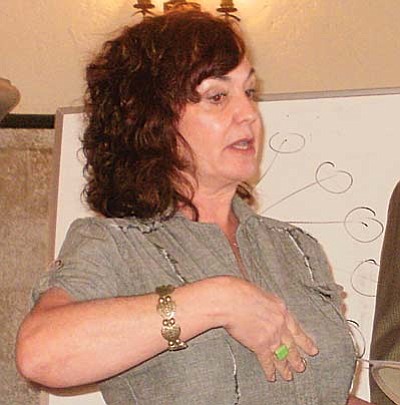 Originally Published: March 4, 2012 7:43 a.m.
Class VI of Verde Valley Leadership attended their Mid-Year Skills Day hosted by board members Feb. 24 at the Clark Memorial Clubhouse.
Mid-Year Skills Day marks the halfway point of the first year of their involvement in the two-year program. The day consisted of guest speakers, team building and updates in their progress of their personal or professional Vision, Mission and Goals.
Al and Jodi Filardo of the Filardo Group began the day with a discussion about leadership and how a personal or professional Vision, Mission, Goal and Objectives (VMGO) can be a guiding light in your life and career. Class VI set their personal or professional VMGO at the retreat held in September of 2011. The Class then updated the group on the progress each was making as well as any challenges and obstacles they may have faced to date.
The Class was then treated to a presentation of Myers-Briggs Type Indicator (MBTI) personality testing by board member Mark Johnson. This exercise not only allowed the Class to discover their own personality traits but also gave them tools to work with others with opposite or similar personality traits. Mr. Johnson then stressed that, "Learning to work successfully with others in the community is one of the foundations of becoming a servant leader."
Dan Engler and his wife Patty, Registered Nurse in the Cardiology Department at Verde Valley Medical Center, shared lessons from one of their leadership inspirations from the book Leading on the Edge, The Extraordinary Saga of Shackelton's Antarctic Expedition. They engaged the class with passages from the book pertaining to Ernest Shackelton's character and leadership abilities.
The day also included hands on team building activities with a variety of life situations. Team building is an important factor in any environment, bringing out the best in a team to ensure self development, positive communication, leadership skills and the ability to work closely together as a team to problem solve. The Class is now hard at work planning the March Issue Day focusing on Sustainability.
More like this story