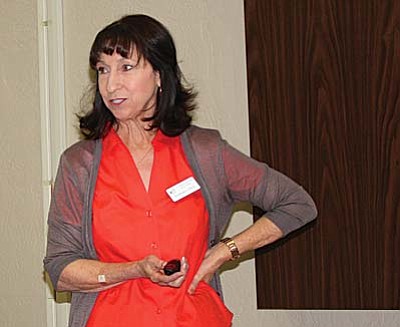 Originally Published: November 30, 2013 1:06 p.m.
Class VIII of Verde Valley Leadership held an Issue Day focused on Education and Youth of the Verde Valley. The day was held at the Cottonwood Oak-Creek School District office and Cottonwood Middle School (CMS).
The morning session began with Barb U'Ren, Superintendent of COCSD. U'Ren discussed the Common Core standards and the Blueprint for Continuous Improvement. Barb Daher, Cottonwood-Oak Creek and Clarkdale-Jerome counselor, continued the morning presentations with Safe Schools. It was an eye-opening experience for all in attendance to see the skills that this program helps to provide the youth of the Verde Valley. Three exemplary students from CMS displayed the knowledge they have learned and put into practice by relaying true to life experiences and showed the group the situational skits they work on to help them in dealing with day to day situations at the school and empower them for the proper course of action.
The morning continued with Denise Kennedy, Principal of CMS, giving a tour of the Art and Music classes. The group was able to see and hear the students learning firsthand. The students in music were learning how to read music and play the drums, piano and guitar. The students in art class were drawing cartoon strips that also focused on language arts.
The group then attended lunch at CMS and ate with the students. Those in the VVL group contributing towards lunch were able to donate funds to the lunch program that will provide lunch for approximately 33 kids from the leftover funds collected.
After a complete tour of CMS, the Dean of Yavapai College, James Perry, gave a presentation about Yavapai College (YC) and the state of higher education in the Verde Valley.
Perry shared the statistic "the average age of a student at YC is 37."
The final presentation for the day was by Gretchen Wesbrock, Gear Up Coordinator for Mingus Union High School. GEAR UP (Gaining Early Awareness and Readiness for Undergraduate Programs) is a federal grant program designed to get more kids college and career ready. Gretchen currently works with the class of 2018 which consists of 235 eight graders, and their families to help them connect with their inner potential.
The Education and Youth Issue Day was a well-rounded presentation on the state of education in the Verde Valley and provided Class VIII with the opportunity to learn more about education in their own community. The next Issue Day will focus on Health and take place on Friday Dec. 13.
For more information about Verde Valley Leadership, please visit www.vvleadership.org.