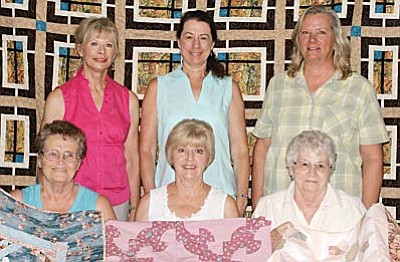 Originally Published: August 18, 2014 3:01 p.m.
Entries are now being accepted for the 2014 Fort Verde Days Quilt Show and Fabric Craft Boutique. If you have a quilted item that was not entered in the 2012 show, please plan to enter it this year.
All quilted items are admissible: wall hangings, place mats, table runners, baby quilts, full-sized quilts, etc. Cost is $5 per entry. Deadline for entries is Aug. 22.
At the first Fort Verde Days Quilt Show in 2012, more than 160 quilts were entered. The show is held every other year.
Coinciding with the annual Fort Verde Days celebration, this year's Quilt Show and Fabric Craft Boutique is scheduled for Oct. 11-12. Now a biennial event, it promises to be a fine collection of quilts, baby quilts, place mats, table runners and wall hangings. Everyone in attendance will be asked to vote for the People's Choice Award.
Two local quilt stores, Quilters Quarters in Cottonwood, and the Quilter's Store in Sedona will be vendors for both days. And fabric crafters from the Verde Valley will show, demonstrate and sell fabric crafts in the gymnasium.
For more information and an entry form, call Jeanette Teets at (928) 567-6891 or email jdteets451@gmail.com. Make checks payable to Camp Verde Quilt Show and mail to P.O. Box 3486, Camp Verde, AZ 86322.