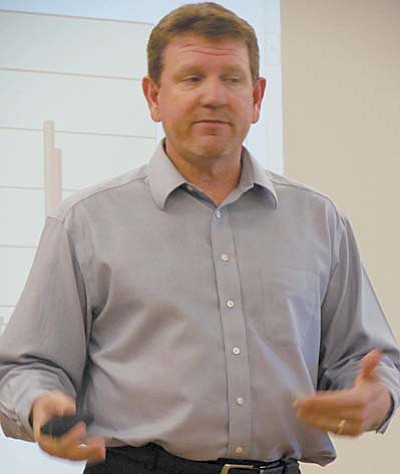 Originally Published: April 2, 2015 2:19 p.m.
COTTONWOOD - Class IX of Verde Valley Leadership hosted a busy day long seminar discussing issues related to Education and Youth.
The event brought together area leaders and teachers to discuss a variety of ideas centered around improving youth outcomes in the Verde Valley. VVL's vision is to "inspire individuals to action," with the belief that people who care and contribute are necessary for a healthy community.
The day long seminar began with Yavapai County Juvenile Probation Director Scott Mabery outlining the positive changes in juvenile probation based around their new facilities and improved training and staff.
Mabery offered some surprising statistics demonstrating that juvenile crime in many important categories has decreased in recent years in the county. He also highlighted the current success of the detention facility education process with their detainees.
The current hot topic of education funding challenges was detailed to the group by Mingus High School Business Manager Kirk Waddle who presented a very detailed explanation of the budget and funding challenges they face. His talk summarized Mingus' and many high schools throughout the state a frustration with the State budget cuts to education and its impact in the upcoming budget cycle.
Waddle, a former Mingus and NAU graduate himself who went on to work in finance positions in various Fortune 500 companies, including Microsoft, discussed his path back to Mingus and his commitment to his alma maters success.
Cottonwood Middle School assistant principal Bill Sanderlin and Bridgeway Alternative Program head teacher Danny Watkins led the group through a short history and summary of the schools success in working with students trying to overcome discipline and behavior challenges in the middle school.
Sanderlin and Watkins outlined the process of a Bridgway students expectations of climbing back to the schools main population through a series of Levels that must be met. Between the two Sanderlin and Watkins have a combined 55 years of teaching experience and bring a wealth of knowledge to the CMS campus.
Just before lunch Erin Eccleston and Dexter Albert of Expect More Arizona gave a presentation of their groups statewide advocacy of trying to fight for "World Class Education" in Arizona. The goal of their group is to aim higher in Arizona's expectation for our children's education. Some of the difficult challenges they are addressing were highlighted by some difficult eye opening statistics. Some 25 percent of Arizona students do not graduate from high school. Almost 72 percent of Arizona 4th and 8th graders are not proficient in reading. Their advocacy is centered around the philosophy of enough of talking it's time to take action.
During the lunch break the class watched a TED Talk video by Educator Ken Robinson called "Changing Education Paradigms." This was followed by current Class IX member Doug Braly presenting a hypothetical scenario of what a typical property taxpayer bill would have to increase in order to take Verde Valley public schools to an average position in funding relative to the other 50 states. Under his estimate a typical home of 150,000 assessed value would see a tax bill move from about $1,379 to $1,644 dollars per year. Braly stressed that it would take that much of an increase (19 percent) just to get Arizona to an average funding level.
The afternoon session was a very thought provoking panel discussion called "Hopes and Dreams vs. Reality in the Classroom" involving current and retired teachers from around the Verde Valley. Current teachers Rhonda Koeppe of Camp Verde Middle School, Lauren Adams of Mingus High, and local home school teacher Tammy Yoakum School joined with retired teachers John O'Donnell, Mike Cosentino and Dane Wombacher to brainstorm challenges of teaching. Cosentino and O'Donnell recalled a "golden age" at Mingus in the 1980's where Mingus produced six Flynn scholars and had high literacy and graduation rates. When the question to the panel of whether students thought reading to be cool now days many expressed doubts with some answering no. Many other education topics were discussed such as online education, technology, discipline and classroom size.
The final speaker of the day, Yavapai County School Superintendent Tim Carter was recently appointed by the Governor as one of 5 members to the State Board of Education. Carter's talked called "Education Trends in Yavapai County from 1979 to 2015" encompassed Carters 42-year career in education in which he has seen ever increasing pressure on funding and budget issues. He also sought to educate the group on the important difference between national standards such as Common Core and the ability for local School Boards to still control their education curriculum.
Members of the Class IX ended the day feeling very educated on many issues and challenges facing Education and Youth in the Verde Valley. Verde Valley President Greg Feltman closed the meeting with questions to the group on what they had learned throughout the day. The group looks forward to its next issue day on April 17th called "Community Leadership."
More like this story