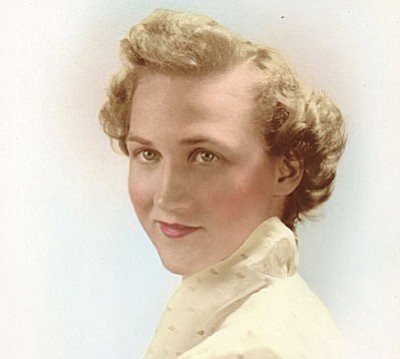 Originally Published: August 15, 2015 11:23 a.m.
Katherine "Kitty" Meacham, 80, of Cottonwood, died August 11, 2015. She was born February 8, 1935 in Akron, Ohio, the daughter of Jess Calvin Shelly and Anna Shelly.
She worked as a veterinarian assistant and owned and operated truck driving over the road throughout the states.
Her hobbies included being outdoors and her love of wildlife. She was interested in American Indian Culture. Kitty had a love of crafts including needlepoint and crochet.
The family has many fond memories of a loving Mother, Kitty "Moo" Meacham. She always entertained us with her stories and loved spending time with her family. Her determination was an inspiration to us all and she will be dearly missed.
She was preceded in death by her husband, Raymond Faye Meacham and a son Ray Martin Meacham.
Kitty is survived by her sons, Mark C. Meacham (Susan) of Phoenix, Bret L. Meacham (Misty) of Cottonwood; and her daughter Lynn M. Meacham of Cottonwood; four grandchildren and one great-grandchild.
A memorial service will be held Wednesday, August 19 in the Westcott Funeral Home in Cottonwood at 11 a.m.
In lieu of flowers, you are invited to contribute to the Arizona Wildlife Federation, P O Box 51510, Mesa, AZ 85208 in Kitty's memory.
An online guestbook is available to sign at www.westcottfuneralhome.com
Information provided by survivors.
More like this story