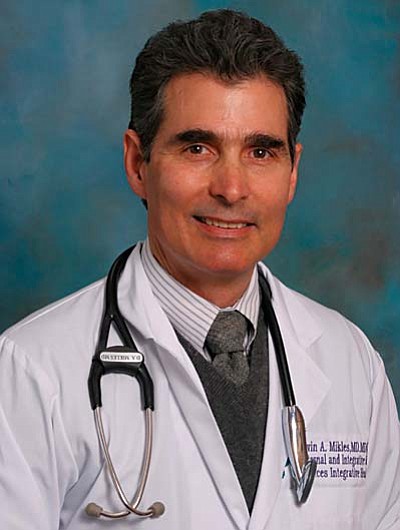 Originally Published: January 24, 2015 2:21 p.m.
PTSD presentation
Feb. 5
Dr. Devin Mikles will present at the Sedona Public Library on the topic of PTSD on Thursday from 6:30-7:30 p.m. This is a great opportunity for anyone interested in knowing the underlying physiological changes that occur in PTSD and how nutrient and lifestyle changes can be optimized to help improve the condition.
Town of Clarkdale special meeting
Jan. 27
This special meeting of Clarkdale's council will include discussion on an amendment to require a specific development plan to accompany all zone change applications; a worksession on way-finding signage in town; a 2014-2015 budget update; and discussion and consideration of the new Commercial Outfitter Code. The meeting starts at 3 p.m. in the Clark Memorial Clubhouse. Find the full agenda and packet at Clarkdale.az.gov.
Open House for Entrepreneurs & Small Businesses
Jan. 28
At 2:30 p.m., the Cottonwood Economic Development Council (CEDC), the Sustainable Economic Development Initiative (SEDI), and the Verde Valley Regional Economic Organization (VVREO) will host an open house and informational meeting to discuss their loan programs for startups and small businesses. Entrepreneurs and small business owners are invited to come to the Cottonwood Business Assistance Center at 827 North Main Street, Cottonwood, Arizona 86326.
Light Body Fitness Dance Meditation Class
Jan. 29
Find guided explorations, free dance and meditation at Thursday's Joy of Expression class, starting at 6:15 p.m. and ending at 7:15 p.m. Classes are held Thursdays at 2445 W. 89A #4 in Sedona. $10 at the door.
Contact (928) 254 9551 for more information. Dr. Devin Mikles MD, is an internal medicine physician serving the Verde Valley since 1991 and founder of the Choices Foundation for Health Education and Research, a 501 (c) (3) corporation dedicated to researching complementary and alternative healing systems and providing education to the public. This presentation is free and open to the public.
The Sedona Public Library is located at 3250 White Bear Rd, Sedona, AZ 86336. Donations to support the foundation activities are welcome. For more information see us at www.choicesfoundation.us.com or call Peggi Cross at (928) 963-0528.
Clemenceau Heritage Museum free general membership meeting
Jan. 30
The Clemenceau Heritage Museum would like to invite the public to its free general membership meeting from 1-3 p.m. Roger Every will be speaking about his experience traveling with the circus around North America, Canada, and Cuba. The Clemenceau Heritage Museum is located at 1 N. Willard, Cottonwood, Arizona 86326. Phone number is (928) 634-2868.
Verde River Valley Nature Organization ad opportunity
Feb. 2
VRVNO has sponsorship and ad space available in its promotional brochure. Contact Wendy Harford at (928) 282-2202 for more information on purchasing space, hosting a RiverFest event in April, or sponsoring a VRVNO event. The brochure goes to print on the first Monday in February.
Verde Valley Little League Signups
Feb. 7 and 14
Register kids ages 4-14 for baseball and softball at the Cottonwood Recreation Center or Cottonwood Middle School from 8 a.m. to noon on back-to-back Saturdays in February. Bring birth certificate copies.
Mingus Avenue: Willard Street to 10th Street Road Reconstruction open house
Feb. 11
The open house will be held at the Cottonwood Recreation Center from 6-8 p.m. in the Cottonwood Conference Room. This open house is for the Mingus Avenue Road Reconstruction project from Willard Street to 10th Street, and is an opportunity for the community to ask questions, provide input or bring up concerns about the project during the early part of the design process.  Prior to this open house, flyers will be distributed along the project corridor and letters will be mailed to the property owners adjacent to the project and other entities that may be affected by the road reconstruction project. Please direct questions to Cindy Smith, Engineering Department, either by phone (928) 634-8033 or email csmith@cottonwoodaz.gov.
Benefit and Bike Run for Doug Cannon
Feb. 28
Doug Cannon had a serious motorcycle accident and, after surgical complications, he has had his leg amputated. The Chaparral Bar, friends of Cannon and the Verde Valley MMA is hosting the run, starting at Nate's Cowboy Café in Clarkdale. Registration at 9 a.m. Kickstands up at 10 a.m. $15 per poker sheet. Run ends at the Chaparral bar in Cottonwood at noon, followed by a party. Everyone welcome. Music at 1 and 6 p.m. by the Cheap Sunglasses & Friends. For donation or run information, contact Beth at (928) 274-3443.
Free Electronics Recycling Drop-Off Day
March 7
From 9 a.m. to 1 p.m. at City Hall, located at 102 Roadrunner Drive. Do you have obsolete toys and gadgets or unwanted electronic devices that need to be disposed of? Bring them to the City Hall parking lot for collection and environmentally responsible recycling by Westech Recyclers. There is no charge for drop-off and no item limit. For information or early drop-off, please call (928) 203-5031.
Sedona Main Street Program events
March 14
Set for the Saturday before St. Patrick's Day along Jordan Road in Uptown Sedona. Free event presented by Sedona Main Street Program, NAU Parks and Recreation Program, Sedona Green Team. Parade starts at 10:30; Free Festival follows until 3 p.m. Visit www.sedonamainstreet.com.
MATFORCE Announces Annual Video Contest
March 27
MATFORCE announces its annual "My Voice Makes a Difference" video contest. Area youth ages 11 to 18 and college students are invited to let their voices be heard by creating an original short video that makes a positive statement about reducing drug and alcohol abuse. Cash prizes will be awarded in three categories: middle school, high school and college. First place winners in each category will be awarded $300. $200 will be given to second place winners and $100 will be given to third place winners. Honorable mention winners will receive $25. For contest guidelines and entry form visit matforce.org or call (928) 708-0100.
Sedona's 11th Annual National Day of the Cowboy Celebration
July 25
In Uptown Sedona on Saturday from 11 a.m. to 8 p.m. Enjoy "cowboy going's on": gunfights, roping, cowboy action shooting, historical re-enactments, musical revues, storytelling, poetry, cowboy/cowgirl outfit contest, country music and performances. Free event presented by Sedona Main Street Program, Red Rock Posse and area businesses. www.sedonamainstreet.com.
Sedona Main Street Paint Out
Oct. 17
From 1:30-4:00 pm. See 30 nationally recognized Plein Air Artists along sidewalks and plazas in Uptown, each completing a painting in 2 and a half hours. Free event sponsored by Sedona Main Street Program and presented with Sedona Arts Center's Annual Plein Air Festival. www.sedonamainstreet.com.
The Cottonwood Bookmarks Smile with Amazon
Donate while shopping. The Cottonwood Bookmarks is a non-profit organization that helps the library with purchases that are not in the library budget. Members are signed up with AmazonSmile to receive donations. How to donate while shopping: Go to smile.amazon.com. Sign into your account and type in "Cottonwood Bookmarks" and hit select. For eligible purchases at AmazonSmile, the AmazonSmile Foundation will donate 0.5% of the purchase price to Cottonwood Bookmarks. The Cottonwood Public Library is located at 100 S. 6th Street in Cottonwood. Call (928) 634-7559 for more information.
Free Family Movie Nights
First and Third Fridays
Camp Verde Parks & Recreation and Community Library announces another season of Free Family Movie Nights starting Friday night, Jan. 16 at 6:30 p.m. Enjoy a family movie with free popcorn. Enjoy a movie the first and third Friday nights of each month. Showings will be in Room 206/207 in the Community Center Complex at 435 S. Main Street, on the big screen. The April 17 movie will be held the same night as our Spring Parent/Child Campout. Additional movie nights will be February 6 and 20, March 6, and April 3. Call Parks & Recreation or the Library for movie titles at (928) 554-0828 or (928) 554-8380.
Volunteers Needed At Connections Equine Therapy Program
Feb. 10
Connections Equine Therapy is a non-profit organization located in Cornville, AZ offering Therapeutic Riding and other services designed to improve the health and wellbeing of individuals with disabilities. Volunteers are needed for horse care and to assist clients in our Therapeutic Riding Program. Four-hour training session required, and the next training session is set for Tuesday, February 10. Must be at least 14 years old, physically fit, and commit to one shift per week for at least eight weeks. For more information, call (928) 639-0791 or email connections@commspeed.net.
America gets electrified
Jan. 25
The electrical age began in 1879 when Thomas Edison demonstrated a practical version of the incandescent electric lamp. A new exhibit at the Clemenceau Heritage Museum includes more than 350 artifacts that chronicle the evolution and application of electricity in the average American home for the first 100 years. Learn who the prime-time players were in the argument over direct current and alternating current in a talk by Tim Coons, featuring the exhibit and electrical safety, scheduled for 2 p.m. Sunday at the Cottonwood-Oak Creek School District Office board room, next to the Clemenceau Heritage Museum. Admission is free.
Clemenceau Heritage Museum is located at 1 N. Willard St. (corner of Willard and E. Mingus Ave.) and is open from 9 a.m. to noon on Wednesdays, and from 11 a.m. to 3 p.m. Fridays through Sundays. Entrance is free. Donations accepted.
Mingus Lady Marauders fundraiser
Jan. 27
This fundraising event from 4-7 p.m. will benefit the Mingus Lady Marauders Basketball team and be held at Vinnie's Pizzeria.
There will be a bake sale put on by the girls, as well as raffle prizes.
Vinnie will be donating a portion of the sales to the team.
Square Dance Club
Jan. 27
The Cottonwood Roadrunners Square Dance Club will be starting our Square Dance Class on Tuesday at the Cottonwood Civic Center, 805 N. Main Street, Cottonwood. Mainstream (Beginners) will start at 6:30 p.m. until 8:15. There is a Plus Workshop after the Class. The first class for beginners is FREE. After that the lessons for each class is $5 for adults. Square dance attire is not required. Angels are always appreciated and visitors from other clubs are welcome. Come out and have some fun and meet new people. For more info call Connie at (928) 300-2448.
Lookin' Good Cottonwood: Weight Loss Survival
Jan. 27
"Weight Loss Survival" is the topic of January's free Lookin' Good Cottonwood community lecture, sponsored by Northern Arizona Healthcare's Verde Valley Medical Center in partnership with the Cottonwood Recreation Center. The lecture will feature Pam Ing-Dobrota, a registered dietitian nutritionist at Verde Valley Medical Center, who will provide useful tips to help prevent unwanted weight gain. Learn about healthy food choices, eating behaviors and attitudes that enhance long-term weight loss. The lecture is from 5:30 to 6:30 p.m. Tuesday, Jan. 27, at the Cottonwood Recreation Center, 150 S. 6th St., in the Cottonwood Room. For more information, call Trevor Faust, fitness center supervisor, at (928) 639-3200, ext. 3210, or email tfaust@cottonwoodaz.gov.
Community Blood Drive
Jan. 27
The Mingus Union High School National Honor Society is hosting a blood drive in the school's small gym, located at 1801 E. Fir St, from 8 a.m. to 5:30 p.m. Contact Chad Scott at (928) 634 7531 ext. 1112 or visit www.BloodHero.com (Sponsor Code: Mingus) for more information.
Administrative Hearing Officer appointment
Jan. 30
The Cottonwood City Council is seeking applicants for a two-year administrative hearing officer appointment. Applicants must submit a resume or list of their qualifications to the human resources office, located at 816 N. Main Street, by 3 p.m. on Jan. 30. Visit www.cottonwoodaz.gov or call (928) 340-2711 for more information.
More like this story