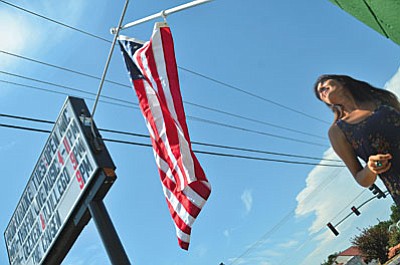 Originally Published: July 2, 2015 8:09 a.m.
Clarkdale: Parade and traditional 4th celebration
The place to be for breakfast on the 4th of July is Clarkdale Town Park.
The festivities kick off at 7 a.m. in the park, with traditional Independence Day activities throughout the morning. Get there early so you don't miss anything.
The Veterans of Foreign Wars Post 7400 will raise the colors at 7 a.m., followed by an opening address by Mayor Doug Von Gausig. The acoustic sounds of the Coastal Brothers will play at the gazebo until 9 a.m.
The pancake breakfast is served from 7 a.m. until 9 a.m. Clarkdale Police Department and Clarkdale Fire District host the event. Cost: $5 for adults and $4 for 12 years and under. Credit and debit cards accepted.
From 7:30 a.m., the Clarkdale Fire District will offer free fire truck rides on the antique Parade Fire Truck and the Clark Memorial Library Ice Cream Social will open so you can top your pancakes off with a scoop of ice cream.
The Ice Cream Social will offer cakes, cupcakes, brownies, pie as well as ice cream from 7:30 until 9 a.m.
Beginning at 8 a.m., the Clarkdale-Jerome School will offer children's carnival games
Grab a spot to watch the annual Kids' Parade starts at 9 a.m. which will step off from the Clarkdale-Jerome School down Main Street. Prizes will be issued for: Best Decorated Pet, Best Decorated Bicycle, Best Decorated Wagon, Most Patriotic, and Most Original entries. Those participating must register beginning at 8:15 a.m. at the Clarkdale-Jerome School. There is no cost to enter but no pre-registration before the day of the event.
At 9:30 a.m., the Cottonwood Community Band will perform their annual patriotic concert.
At 10:45 a.m., the winners of the Spirit of Clarkdale Awards will be announced and presented at the gazebo.
Events all morning, Parade@ 9 a.m. Free, charge for concessions.
It's a different kind of parade in Jerome
The Kids Art Workshop, police and fire departments join together for a 4th of July parade. Be in line by 10:30 a.m.
All are welcome to march in this parade: local businesses, kids, grandparents, babies in decorated strollers, well-behaved dogs, snakes, parrots, & horses, Shriners, motorcyclists, classic car lovers, art cars, pride flags, Veterans, hula-hoopers, musicians, everyone! This summer's Jerome Kids' Art Workshop marked the return of its founder Richard Johnson's participation. As many 'Jeromies' know, Richard is a master in wild 3-D wearable art and sculptures made from cardboard.
Meet up time is 10 a.m. sharp behind the Jerome Fire Station. Join the Jerome Ukulele Orchestra, Jerome Kids Art Workshop, Jerome Fire and Police Depts. in our Annual Parade & Celebrate Good Times.
Parade @ 10:30 Free.
Cottonwood: Fireworks will light up the sky; food, fun
The Independence Day light show in Cottonwood will help celebrate our freedom on Saturday night. But to help allay your anticipation, Cottonwood and generous partners have assembled food, games and a number of activities for you and the kids. Everything is at the Cottonwood Kids Park at 12th Street and Cherry.
Pre-show children's activities start at 4 p.m. with games, water slides, inflatable rides and a watermelon-eating contest. Wrist bands available for purchase on site for the kids games. Soft drinks, glow necklaces and other items will also be available for purchase.
Free food provided courtesy of Fry's Food & Drug, prepared by Knights of Columbus and served by Verde District Kiwanis Club from 4 until about 6 p.m.
The countdown to Northern Arizona's finest fireworks display begins at 7:45 p.m. with music, presentations and a patriotic salute by the VFW Color Guard. At 8:45 p.m. grab a spot on the grass and settle in for 35 minutes of lights, booms and "ahhs."
Enjoy the day, have a meal and join activities Cottonwood Parks and Recreation has put together for you and your family. Fairground parking only $1 to benefit a local nonprofit youth organization.
Co-sponsored by Cottonwood Chamber of Commerce, Taylor Waste, Nice Jons, Minerals Research, Jennifer Griffen State Farm, Verde Valley Fair Association and Fry's Food & Drug.
Charge for concessions, fireworks 8:45. Free event, $1 parking.