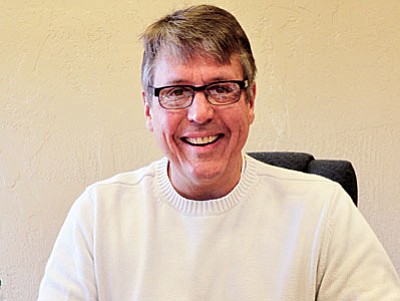 Originally Published: July 9, 2015 4:32 p.m.
COTTONWOOD - The Cottonwood-Oak Creek School District enters the fiscal year 2015-2016 with about $800,000 less to spend on "brick and mortar" capital expenses, while facing a 1.6percent increase in maintenance and operation expenses.
But the budget situation could be worse.
Unlike the Mingus Unified School District, the Cottonwood-Oak Creek School District won voter approval last November of a $15 million capital bond to replace aging heating and cooling systems and worn buses, among other things.
"I'd like to thank the voters very much for giving us the support," said Director of Business Services David Snyder. "This sets-up the district to control facility and repair costs."
With the state-mandated Classroom First initiative pulling funding from capital expenses, Snyder has turned to future savings in energy costs and vehicle maintenance.
"We are replacing all our HVAC units and upgrading our network fire alarms," said Snyder. "Next year, we are replacing single pane windows."
"Cottonwood Elementary and Cottonwood Middle School will be done before school starts. The other schools will be done next year," Snyder said.
Snyder also anticipates immediate savings in transportation with a fleet of 15 new buses.
"We had 20-year-old buses with 150,000 miles, so we are expecting savings in repairs," said Snyder.
Snyder's work involves allocating current funding to cover expenses while analyzing future needs and potential for savings.
A summary of the district's proposed expenditure budget for 2016 details both strategies.
Compared to last year, savings include non-instructional services operations (down 23 percent) as well as pupil transportation (down 8.4 percent), largely due to more reliable buses.
On the flip side, spending will increase 9.2 percent for student support services, 14.4 percent for the kindergarten through third grade reading program and 33.7 percent for instructional staff.
Snyder explained the hike in instructional staff had to do with re-allocating funds among existing categories. It also funds the new assistant superintendent position as well as instructional coaches.
"Costs increase every year for special education, speech and occupational therapy. We see those costs go up every year," Snyder said.
Also, average daily membership, a funding formula which reflects student enrollment, is down 35 from last year (from 2,047 to 2,012).
Snyder has been the Cottonwood-Oak Creek School District director of business services for 13 years.
The district services students from kindergarten through eighth grade. Dr. Daniel Bright School serves kindergarten through second grade, Cottonwood Elementary School serves third through fifth grade and Cottonwood Middle School serves sixth through eighth grade.
The district also serves the community of Cornville, with Oak Creek Elementary educating students from kindergarten through eighth grade.
In addition, the Cottonwood-Oak Creek School District offers kindergarten through sixth grade programs at Mountain View Preparatory, as well as the state-approved online school Arizona iZone.
More like this story