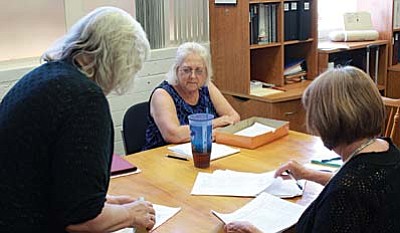 Originally Published: June 11, 2015 12:48 p.m.
CAMP VERDE - At 2 p.m. Wednesday, Camp Verde resident Cheri Wischmeyer submitted signed petitions to the Camp Verde Town Clerk's office to recall council members Bruce George, Jessie Jones and Robin Whatley.
A short time later, Wischmeyer said she plans to seek election - to take Whatley's seat.
Wischmeyer, chairman of the group Camp Verde for Good Government, originally said she initiated the recall because the three council members - and Mayor Charlie German - voted to approve a .65-percent sales tax increase.
Wischmeyer needed 331 to recall the council members, but she needed 485 signatures to recall the mayor. Wischmeyer was unsuccessful at getting the necessary amount of signatures to recall German.
Before submitting the signed petitions, Wischmeyer said the recall wasn't about the passing of the sales tax but it was about "getting a government who care about this town."
Whatley, who has been on the council for the past six years, said she wasn't surprised at all by the recall effort, but doesn't see the benefit it will have for the town.
"I find it unfortunate that here we are trying to move forward and were being pulled back," Whatley said. "This Town Council has earned the respect of other Town Councils across the state and once again from the efforts of a few people who don't want us to move forward. They are trying to completely undo any amount of credibility that we have established."
Besides Wischmeyer, it is too soon to know who plans to run against George or Jones. But George offered a few concerns.
"I think it is a shame that a professional agitator can fool a few uninformed and/or disgruntled residents into signing these recall petitions to destroy all the progress we are making in Camp Verde," he said. "What is her vision for moving Camp Verde forward? There isn't one. She is just bent on destroying any effort to make Camp Verde a better place to live and raise a family."
Council has recently made plans to place five capital improvement projects into the fiscal year 2015-2016 budget. Jones, who has been on the council for the past three years, said things are "starting to happen and it is working for the Town and wants to see the Town move forward."
"If we want our community to grow, to provide for our citizens, we need a tax, and council members who are willing to make decisions to forward progress." Jones said.
With the recall petition submitted, Town Clerk Virginia Jones said the Town has 10 days to verify the circulators affidavit and to make sure the notary is correct before handing off the petitions to the County. Once the County has the signatures, they will verify signatures to make sure everything is correct. The Town then must call the election by Aug. 5, with a tentative date for an election, Nov. 3.
Any candidate who plans to run would need to collect 106 signatures to be placed on the ballot. Candidates must also choose who they plan to run against.