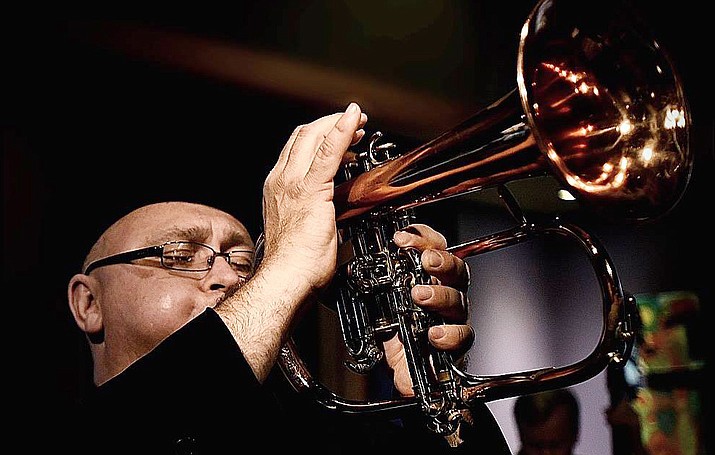 ---
---
Celebrated for his warm tone, soaring lyricism and masterful technique, flugelhornist Dmitri Matheny brings his group to the annual "Have Yourself A Jazzy Little Christmas" concert at Saint Luke's, Sedona, for an afternoon of cool jazz and a toe-tapping prelude to the upcoming Christmas celebrations throughout Sedona and the Verde Valley.
Born on Christmas Day, 1965, Dmitri began piano lessons at age 5, switching to the trumpet at age 9 and taking up the flugelhorn at 18. He attended the prestigious Interlochen Arts Academy in Michigan, then the Berklee College of Music, Boston, graduating magna cum laude in 1989.
After private studies with Carmine Caruso in New York City, Dmitri became the protégé of the legendary Art Farmer. Farmer, "the bebop master who defined the sound of the flugelhorn in modern jazz" (All Music Guide), was Matheny's public champion and private mentor.
The soulful sound of Dmitri's horn has garnered praise from critics and audiences alike, drawing frequent comparisons to Miles Davis, Chet Baker and -- not surprisingly -- Art Farmer.
One of the busiest jazz artists around, Dmitri presents over 100 concerts each year, touring extensively throughout the world, and in his work has appeared in concert with such jazz luminaries as Larry Coryell, Tommy Flanagan, Wycliffe Gordon, John Handy, Tom Harrell, Billy Higgins, Red Holloway, Joe Lovano, James Moody, Bobby Watson and Paula Westf to name but a few.
Dmitri has received several prestigious music awards, including "Talent Deserving Wider Recognition" in the 46th Annual Down Beat International Critics Poll and "Best New Artist" honors (with Brad Mehldau, Stefon Harris and Ravi Coltrane) in the 1999 JazzTimes Readers Poll.
Sunday's concert - which includes double bassist Theodore "T-Bone" Sistrunk and pianist Steve Sandner - concludes the 2016 concert season, and the 2017 concert series will begin on February 12, with the annual Valentine Jazz concert with the Bob Ravenscroft Trio presenting an afternoon billed as "Music for Lovers."
Tickets for Sunday's concert are $15 and are available online and "at the door."
Tickets bought online will be held at the church at "Will Call," and entitles the bearer to be admitted before tickets are sold at the door on the day of the concert.  
Doors open for season ticket holders at 2:20 p.m. and "Will Call" folk at 2:30 p.m.  At the door ticket sales begin at 2:40 p.m., and the concert begins at 3 p.m.
The ultimate chamber jazz concert venue in Northern Arizona, Saint Luke's Church is the home of Sedona Jazz at the Church, and is located in the Chapel area of Sedona, on Highway 179 between the Back O' Beyond and Chapel Road roundabouts. 
The 2017 Season tickets are now also available online, and enable ticket holders to enter all concerts at 2:20pm, for the best seats available. An added Season ticket "perk" includes a bottle of "Almost Holy" Water at each of the nine Season Ticket Concerts.
For more information, telephone the church (928-282-7366) or visit the internet home of Sedona Jazz at the Church, found at www.episcopalnet.org