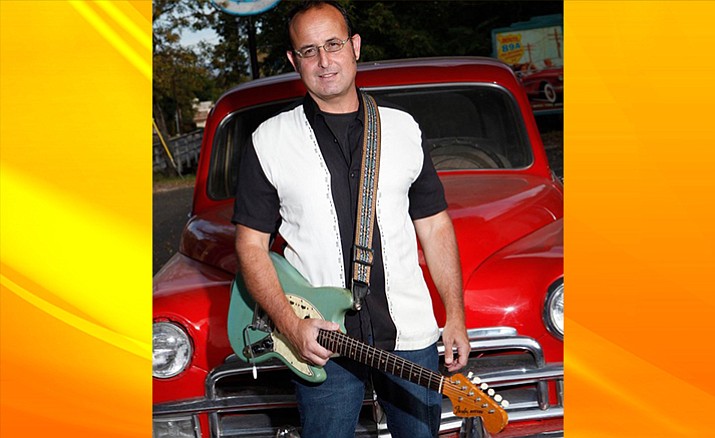 ---
---
August West plays favorite songs by The Beatles, The Stones, Van Morrison, America, Simon and Garfunkel, Tom Petty and many more at Vino Di Sedona on Wednesday December 7, 7-10 PM. August is best known for performing with his Grateful Dead Cover Band.
KB Bren is back for another fun night of rock n' roll at Vino Di Sedona on Thursday December 8, 7-10 PM. KB is a Sedona resident with a life-long music career. In the 1990's and early 2000's KB played with well-known bands, such as Grateful Fred and Cold December. KB will be playing his new originals, and old favorites with a few covers mixed in.
Be swept away to the feel of a 1960's beach party when Randy J takes the stage at Vino Di Sedona on Friday December 9, 7-10 PM. Randy is famous for his 50's and 60's style surf guitar. Born in Orlando, Florida, Randy J moved to Los Angeles in 1987 and shortly thereafter began composing music for film trailers and TV spots. He returned to Orlando and formed his band the Tarantulas in 1995; now a Sedona resident, Randy performs as a solo artist and with The Tarantulas as the guitarist and lead singer.
Saturday's double dose of music at Vino Di Sedona on December 10 features two local Sedona favorites, Paolo, and Alex Ogburn. Paolo's jazz classics accompany afternoon wine tasting, 3:30-6 PM, his favorite song is always the one he is performing at the time, and he really puts himself fully into his music. Ogburn takes over for night-time entertainment with rock and authentic blues, 7-10 PM. Ogburn's music career has taken him from Birmingham, AL to Orlando, FL to Sedona. In Birmingham Ogburn began playing in pubs and restaurants at the age of 19. The years in Birmingham contribute to Ogburn's fiery and soulful Southern blues. Ogburn's show will include unique interpretations of a wide range of choice covers, and eclectic originals.
No Monday Blues needed at Vino Di Sedona, there's music every Monday to start your week off right! Listen to mesmerizing music by Gina Machovina on Monday, December 12, 6:30-9:00 PM. Gina is best known for her virtuoso guitar playing and smooth, sultry vocals (it's hard to believe she used to be in a heavy metal band!) As a student and performer of classical guitar music for more than 30 years, Gina also played lead guitar and wrote music for her hard rock-band, Rising, in So California. More recently, Gina has performed solo as a singer/songwriter throughout the Pacific Northwest where she recorded her first CD, Mirrors. She now resides in Sedona and plays extensively throughout Northern Arizona. Beautifully mesmerizing, Machovina's music is a soulful mix of guitar masterpieces with passionate vocal tunes spanning many decades.
Sedona's best Open Mic night, hosted by Dan Rice is every Tuesday, 6-10 PM, at Vino Di Sedona. Each musician is allotted an amount of time, or number of songs, and every week brings a variety of new talent along with regulars like KB Bren, Jim French, Rick Busbea, Randy J, Lisa Hart, Vickie Moyer, and Dave Rice who frequently play at Open Mic.
Vino Di Sedona Fine Wine and Craft Beer, is located at 2575 W SR 89A in West Sedona. For more information or to see the full calendar of events, visit www.VinoDiSedona.com. 928-554-4682