Mingus girls soccer wins third straight over Youngker, 6-2
Originally Published: December 7, 2016 3:09 p.m.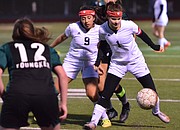 COTTONWOOD -- They say the best defense is a good offense. That certainly seems to be the case for the Mingus Union girls soccer team so far this season.
It's not that there are noticeable defensive deficiencies for the Marauder girls, but what stands out is consistent and persistent offensive firepower.
Tuesday was no exception. The Mingus offense dominated en route to a 6-2 win over visiting Youngker, the same team Mingus beat on the road last week 3-1.
Mingus is 3-1 so far this season if you want to include a pre-season tournament loss to Moon Valley. Since then, the Mingus girls have been near-perfect since officially opening the season with an 8-0 win over Metro Tech.
Tuesday against Younger, a Buckeye school, freshman Marli Urueta was on fire, finding the net four times with senior Auli Hanks and freshman Felicia Bueno adding one goal apiece.
"The defense looked strong despite having one absence and one illness from our defensive lineup," said Coach Andrea Strobel. "Even though we won, we were able to notice things our team can work on to improve: tighter passing, holding our shape when the opponent is attacking, and communication on the field for better outcomes."
In Mingus' season opening win over Metro Tech, freshman Felicia Bueno led the charge with 5 goals, with senior Yadira Moreno, freshman Marli Urueta, and junior Madi Backus all chipping in 1 goal each.   
Defensively, Strobel credits Holly Johnson and Sienna Duenas with strong performances holding center and Kaitlyn Card, Hannah Arwine, and Amaya Contreras being stingy along the outside routes on goal.
The Mingus girls were at home again Thursday against Dysart and Dec. 9 they are on the road against Coronado.
SUBMIT FEEDBACK
Click Below to:
More like this story