Live like a GIANT in a tiny house

Originally Published: December 8, 2016 3:08 p.m.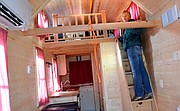 If you want to know what it's like to live like a giant, the Thousand Trails RV and Camping Resort may have the experience for you.
Wednesday they rolled in one of two "tiny houses" for guests to rent.
The inside of the tiny house looks and smells like a cabin made of wood – but shrunk.
Tiny houses are the size of a fifth-wheeler recreational vehicle pulled by a truck. But they are made of wood and other traditional materials that houses are made of.
There is a couch on the left as you walk in, the kitchen is at the front. A loft above the kitchen is where the bed is just like in an RV. In fact it is designed like an RV, but made of wood. A ladder takes residents to the loft.
Thousand Trails will permanently park two tiny houses, which are becoming a "craze" around the country, along one of its splendid views in a canyon split by the Verde River. The park is located between Cottonwood and Camp Verde off of SR 260.
Scott Woolley, manager at Thousand Trails off SR 260 between Cottonwood and Camp Verde, said his parent company has set up tiny houses in other parks to rent around the country and they seem to do pretty well.
"It's kind of a trend," he added.
The park is primarily an RV park, but also it also has 21 cottage rentals and the two tiny houses will be part of those, he said. They will be in the $120 or $130 per-night range. "With a canyon view and the Verde River, that's a great deal.," he said.
The houses can be pulled around like a fifth-wheeler and house three people, he said. The tiny houses that arrived at Thousand Trails on Wednesday was 13 feet, 2 inches high and weighed 2,200 pounds, according to the driver.
The tiny houses at Thousand Trails will be a little over 258 square feet and 218 square feet.
They are most popular with the younger generation, millennials, he said. "It's something kind of neat and nostalgic, a small doll house." They are also popular with children, but some seniors may have trouble maneuvering inside of them because of the ladder.
Woolley said he would see how well the tiny homes do and determine if they will bring in more. The trend seems to be "tiny home villages where they will have multiple units in an area," he added.
More like this story
SUBMIT FEEDBACK
Click Below to: