Alleged drug lab busted in Verde Village
Originally Published: December 10, 2016 10:09 a.m.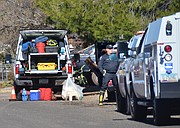 VERDE VILLAGE – Authorities busted an alleged drug lab inside a shed on Thursday, Dec. 8, when the shed caught fire, according to Yavapai County Sheriff's spokesman Dwight D'Evelyn.
Deputies and fire-fighters were dispatched to a report of a gunshot sound and a fire in the 2300 block of South Posse Trail at about 7:30 a.m., D'Evelyn said, and they found evidence that drugs being made in the shed had started the fire.
They detained Kristina Baugh, 25, a resident of the home associated with the shed. Baugh had a two-year-old child with her on the property.
Deputies checking the house "found three male subjects hiding inside," D'Evelyn said. They were Nathaniel Janes, 37, Mark Debottis, Jr., 34, and a third man, 37, who has not yet been charged.
Detectives from the Partners Against Narcotics Trafficking task force obtained a search warrant for the house and "located numerous items related to the illegal manufacture, possession, and use of dangerous drugs and narcotic drugs," D'Evelyn said.
Detectives also found "saleable" amounts of methamphetamine and heroin along with loaded syringes and a digital scale.
They found no evidence of gunfire and believe the gunshot sound was related to a chemical reaction or explosion in the shed.
Baugh, Janes, and Debottis were arrested and charged with numerous felonies, including possession of dangerous drugs, possession of dangerous drugs for sale, possession of equipment and/or chemicals to manufacture dangerous drugs, manufacturing dangerous drugs, possession of narcotic drugs, and possession of drug paraphernalia.
All three are in the Camp Verde jail on $50,000 bonds. The child was turned over to a family member.
More like this story
SUBMIT FEEDBACK
Click Below to: