Barb U'Ren to 'transition' from Cottonwood-Oak Creek District
Superintendent will ask board to appoint Steve King as successor
By
Bill Helm
|
BillHelm42
Originally Published: December 10, 2016 3:21 p.m.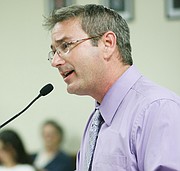 COTTONWOOD – Having spent 34 years at Cottonwood-Oak Creek School District, Superintendent Barb U'Ren is a bit of a wordsmith.
Of course any good educator knows that it's not the size of one's vocabulary that matters. It's all about how the words are used.
U'Ren, superintendent for the past 10 years, says she's about to "reinvent" herself.
Tuesday, U'Ren will tell the COCSD Governing Board that she intends to "transition" away from the school effective June 30 – and that she would like the board to appoint Assistant Superintendent Steve King to replace her.
U'Ren says "the timing is right" for King to take over as the district's leader. In fact, U'Ren says she's been grooming the assistant superintendent to replace her since he first arrived last year.
"We have a stellar leadership team and the pieces are in place for a very seamless transition," U'Ren says. "Knowing all those pieces are in place, it's evident that it's time for new leadership to come in. And this gives me the opportunity to work with other aspiring leaders."
U'Ren, who says she's "not going anywhere," plans to stay in the Verde Valley and work as a mentor, consultant, "wherever the need might be."
"I'll still be able to support our staff," U'Ren says. "And I'll be able to support Mr. King."
In a letter U'Ren sent Dec. 5 to COCSD staff, U'Ren states that in King, her replacement has a "servant's heart and will lead by example. His character traits, knowledge and understanding of our expectations will assure that the Governing Board's goal for a smooth transition is met and that the good work of our staff and our leadership team is honored, nurtured and carried forward."
Before becoming district superintendent, U'Ren served as assistant superintendent for three years.
For Tricia Winters, U'Ren has been "an incredible mentor."
"She's helped me develop my leadership abilities," said Winters, executive assistant to U'Ren. "I've experienced a lot of personal growth, and I'm looking forward to working closer with Steve. He's an incredible person."
Working with – and soon replacing U'Ren -- leaves King "honored, privileged and grateful."
"This is very humbling," King says. "Barb's a remarkable person. She's smart, quick, she cares. Barb knows everyone and everything in this district. She has very wide and very deep knowledge of the systems and processes of this district."
King, who became COCSD assistant superintendent beginning with the 2015-2016 school year, spent the previous eight years as principal at South Verde High School in Camp Verde. U'Ren states in the letter that appointing King at this time will allow him "more responsibility in preparing for a new school year and provide him with a greater understanding of the roles and duties of a superintendent prior to July 1, 2017,"
"Mr. King is committed to our students, our families, our staff and our community," U'Ren states. "He has quickly established relationships within our educational community and has formed partnerships of collaboration between public and private entities that will serve the District well. Together, a transition will occur with minimal disruption."
According to David Snyder, the district's director of Business Services, the district has a "good man in Steve King."
"He's open to ideas, and he'll actually debate those ideas," Snyder says. "And he's got a love for children that becomes apparent in everything he does."
The Cottonwood-Oak Creek School District board will meet at 5:30 p.m. Dec. 13 at the district office board room, located at 1 N. Willard St. in Cottonwood. A copy of the agenda is available at the district website, www.cocsd.us.
-- Follow Bill Helm on Twitter @BillHelm42 and on Facebook at @CampVerdeBugle
SUBMIT FEEDBACK
Click Below to:
More like this story