Editorial: Barb U'Ren will leave great legacy of service to district, community
Originally Published: December 10, 2016 2:46 p.m.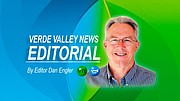 There is nothing more inspirational than a story about someone who starts at the bottom and works their way to the top.
Here in the Verde Valley, few fit that model better than Cottonwood-Oak Creek School Superintendent Barb U'Ren, who this week announced she will retire at the end of the current fiscal year, June 30.
U'Ren has done it all for the Cottonwood-Oak Creek District since first beginning as a special-education aide with the district in 1983. Along the way, U'Ren also served as a library aide, librarian, elementary teacher, principal, assistant superintendent and as superintendent for the past 10 years.
U'Ren honorably avoided the limelight during the considerable successes the district achieved during her leadership tenure, choosing instead to let others accept district accolades. But when the chips were down – especially during austere times when closing some schools were considered a budgetary necessity – U'Ren bore the full brunt of the criticism that naturally comes with such tough decisions.
Further, she strengthened and solidified the district's strong tradition of succession leadership first established when John Tavasci, Jr., was C-OC superintendent. She has thoughtfully positioned and trained her staff so there will be a seamless transition of leadership when she steps down later this year. Just as Julie Larson succeeded Tavasci with full community confidence, and U'Ren followed the same path when Larson retired, current C-OC assistant superintendent Steve King will assume superintendent duties when U'Ren steps down, pending school board approval.
Like U'Ren and Larson, King comes into the job with a proven record of success and full community confidence.
The Cottonwood-Oak Creek School District has been in very capable hands under U'Ren's leadership during the past 10 years, and like a true professional she has ensured the district will continue to have strong leadership when she steps down.
U'Ren has been a true servant leader for the Verde Valley. In true Barb U'Ren fashion, she is quick to credit this community for the support it has provided her and the district all these years.
But that support has been a two-way street. Our community is a better place, and our schools have never been better, thanks to Barb U'Ren's selfless leadership.

More like this story
SUBMIT FEEDBACK
Click Below to: