Cottonwood athlete runs to All American honors
Allyson Arellano finishes runner-up in girls 17-18 U.S. Junior Olympics National Championships
Originally Published: December 13, 2016 10:58 a.m.
HOOVER, Alabama – It was a bit of a cruel joke. The final 800 meters of the USATF Junior Olympics Cross Country Nationals at Veterans Park perfectly fit the definition of "flat and fast."
The question was if you had any legs under you to take advantage of this fast track to the finish of this 5-kilometer national championship race.
The course, explained Cottonwood's Aftershock Distance Club Coach Micah Swenson, is a tricky one in that "the back half hits hard. After all of this initial speed in the open 3K, the hills come into play. There are four different ones between 3000 meters and 4200 meters and each gets a little more difficult. The third hill is a long, gradual climb and the fourth hill is the steepest thing we've ever raced on. The final 800 meters can be fast if you have any legs left from that third and fourth climb."
Cottonwood's Allyson Arellano had enough left to finish third overall and second among 17-18 year old girls among 146 runners in Saturday's Junior Olympics Nationals. Arellano covered the 5-kilometer course in 19 minutes and .63-hundredths of a second.
Kaylah Grant of the Los Gatos Club won the race in 18:47 and unattached runner Jenna Strange was second in 18:55.
But finishing third in such an elite race does not necessarily mean Arrellano finished strong. She was noticeably wobbly after the race.
"It was tough," said Swenson. "A lot of runners were breaking down over the final 400 meters. Allyson was wobbly afterwards. Being a top 3 finisher in the 17-18 division, she was drug tested. It worked out nicely for her because her drug test chaperone made a nice support for those first couple of minutes after racing."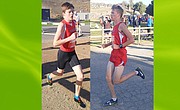 "I was proud of the way Allyson handled this race," Swenson said. "She's had an up-and-down season with all the stresses of recruiting and was able to create a great race plan and execute to perfection. The goal was to go out conservatively fast. She was about 15th after the opening 400 meters and had worked her way up to 4th by the first mile. She was targeting a 5:45 opener and ended up running a 5:44. The winner, Kaylah Grant of Los Gatos, California, went out really fast. Allyson did a good job of staying close but was never able to close the gap to challenge Kaylah. Kaylah was part of a group of three (Jenna Strange who won the 15-16 division and Sue Morales) that broke away early. Allyson was able to attack the race course exactly how she had planned, running the tangents when possible and intelligently attacking the hills. It was her best race of the season."
The Aftershock team was also strongly represented on the boys side as Josh Reilly finished 86th in the 15-16 division and teammate Trenton Stafford was 11th. There were 331 runners in the combined 15-16 and 17-18 races. Reilly covered the 5K course in 18:08 and Stafford clocked in at 18:22.
"The guys both had a great experience," said Swenson. "They had never experienced a race field like this. They were gobbled up into the pack and really had to fight for space and places throughout the entire race. In a lot of ways, it was no different from Allyson's first nationals back in 2010 where she was 124th at this same race venue. I've been really impressed with the progress the guys are making. Both have become far more intelligent in their racing and training."
Next up for the Aftershock Runners is the indoor and outdoor track seasons.

"We do have big goals and plans for the track season," said Swenson. "A lot of them are time-based goals in events (800m up to 5K). I know Allyson has her sights set on the 3200m record at the Great Southwest Indoor. She won the race last year but missed the record because of slow boys on the track getting in her way and fighting her for position. Getting beat by a girl is an ego killer. There are several other meet records and USATF state records she is gunning for, including the 1500m and 3000m that she set last year for the 17-18 girls division. Allyson is going to give steeplechase a shot. I don't know how serious we will get with this but her future coach at Queens, Tsehaye Baney, was a very accomplished steeplechaser in her competitive racing days. It might be a great event for her but we'll see. I just want to lay a foundation there in the possibility that it comes to fruition. Last year, we were able to get Josh to medal in the USATF state meets. We are certainly gunning for that again and hoping that it might be possible for Trenton as well. Both guys are focused on the 1500m and 3000m but are also looking to see what they can run in the 800m."
More like this story
SUBMIT FEEDBACK
Click Below to: