What's Happening: Dec. 16, 2016
Originally Published: December 15, 2016 10:27 a.m.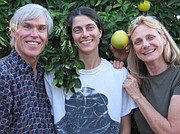 Celebrate New Year's Eve with Happy Days Band
The annual Sedona Elks Lodge #2291 New Year's Eve Dinner and Dance will be Saturday, Dec. 31, 6 p.m. to midnight.
The Sedona Elks Lodge is located at 110 Airport Road in Sedona (928-282-7571). Proceeds from the event help support Sedona Elks Lodge #2291.
The evening's music will be provided by Happy Days, a popular band performing pop songs and country hits popular in the 1950s and '60s. Band members include Rich Van Tillborg, Linda Van Tillborg on guitar, Charleah Allen on lead vocals, Jim Hannah on piano, Steve Mercer on drums and Rod Rodriguez on saxophone.
The evening will feature cocktails and hor d'orves, buffet style dinner, raffles, music, dancing, party favors, and a champagne toast at midnight. $30 per person; tickets must be purchased in advance.
For reservations and ticket sales, contact Kim, secretary at the Elks Lodge at 928-282-7571, or Ray Stueve at 928-821-3300.
CAT/LYNX service for Christmas and New Year's holidays
CAT is pleased to announce that it will be operating regular service on Monday, 26 and Monday, January 2. Neither CAT nor LYNX will be in service on Christmas Day and New Year's Day. This will give our drivers time to be home with their families for the holidays. LYNX will be running a SATURDAY schedule for both Mondays.
Any ADA riders that want a ride on Monday, December 26, are encouraged to call the CAT office no later than 5pm on Friday, December 23. For ADA rides on Monday, January 2, please call no later than 5pm on Friday, December 30. The CAT office will open at its usual time of 8:00 am on Tuesday, December 27 and Tuesday January 3. CAT offices may be contacted at 928-634-2287.
CAT provides four fixed routes and ADA Paratransit serving Cottonwood, Clarkdale and Verde Villages and Verde Lynx provides commuter service between Cottonwood and Sedona.
Free Community Dinner on St. Thomas Day
The community is invited to join St. Thomas Episcopal Church for a Free Community Dinner on St. Thomas Day, December 21, 2016 at 5:30 PM.
As we approach the 100th Anniversary of St. Thomas Episcopal Church building in Clarkdale, we offer a free dinner to the community. We will begin serving dinner at 5:30 PM and serve as long as there are customers or until the food is gone. Please join us in celebration of St. Thomas and our church. Dinner will be prepared at the church with our Priest Julie Williams cooking the spaghetti noodles. A free will offering basket will be available to help defray costs, however no payment is required. We will serve spaghetti, salad, bread and beverages.
Our church is located at 889 First South Street in Clarkdale. We are right in front of the Post Office. For more information, please call the church at 634-8593.
Future of Computer Club to be discussed
The Verde Valley Computer Club is just about to shut down after 26-plus years of helping Microsoft computer users learn and advance their skills. As a former Club member who left Windows Vista for a Mac, it has been disappointing not to find any class training here in Cottonwood. I attended a number of the Club's Windows classes and always came away with additional knowledge of how to do more things with my computer. We could ask questions and get answers from an expert.
Are there Windows users who are thinking of moving to a Mac or Mac users who'd like to have the opportunity to further their computer skills by going to classes taught by an expert? The Club Board is on the verge of closing it down because of the lack of interest by Window's members. The Club President is trying to save the Club by broadening the membership with Apple/Mac users. She has a very qualified teacher willing to share his skill. What is needed are the students.
If you would like to attend some classes and increase you Mac knowledge and skill, e-mail this address president@vvcclub.com Classes are held in the Clemenceau Building at Mingus & Willard on Fridays, 5-7 p.m.
Alpha Course at Immaculate Conception Church
Are you searching for meaning in life? You are cordially invited to join us as we explore life and faith. Over 69 million persons worldwide have experienced Alpha. There's something in Alpha for everyone: The faithful, the questioning, those on the fringe of faith and even the person who is outside the faith but wants to learn more.

The Alpha course is interdenominational, relaxed, friendly, & fun. Sharing a meal at the beginning of each session provides an opportunity to get to know each other. Then we watch a DVD presentation on topics such as "Is there more to life than this?" or "Who is Jesus." After each talk we divide into small groups for discussion. The philosophy of Alpha is listen, learn, discuss, discover. And ask anything. No question is too simple or too hostile. It is a respectful environment where your questions are valued and your opinions respected.

The course consists of 10 weekly sessions in the parish hall. There is no charge for the Alpha course and babysitting is provided free on-site. The first 2017 Alpha course will be hosted by Immaculate Conception Catholic Church located on SR89A and Bill Gray Rd. beginning Tuesday, January 10th at 6:00PM with a free catered dinner and the Introductory Session. For information and registration contact John at 254-8137, the parish office at 634-2933 or email Carol at caroldej@gmail.com
Last chance to buy Christmas Brick for old Cornville Post Office
The Cornville Historical Society invites donors to purchase memorial bricks for a new path to the historic Cornville Post Office at Windmill Gardens.

The bricks can be a thoughtful memorial to a loved one, honor a person or family, support local history, advertise a business or organization, commemorate an event, and be a thoughtful Christmas gift!

Construction begins next year on a path that will meander from a parking area past an interpretive sign to the end of the front porch. Memorial bricks will be interspersed with old used bricks.
The memorial bricks are dark red, with black letters; each can be engraved with three lines of text with up to 18 spaces per line; and the cost is $50 per brick. The deadline for placing orders is December 31, 2016. Orders must be accompanied by payment and one order form per brick.

Forms are available at Windmill Gardens, 9550 East Cornville Road, and at www.cornville-historical-society.org.

All proceeds go to post office restoration. For information, call Cindy Snyder at 649-9177, or write Cornville Historical Society, P.O. Box 1200, Cornville, AZ 86325.
Circle of Friends concert Sunday at Mingus
The annual Circle of Friends Holiday Concert, a Verde Valley tradition, is set to gather folks of all ages together for what promises to be another evening of seasonal song and cheer.  The Circle of Friends is a way for old and new friends to gather and share their music with the community.
Many local performers will join musician John Ziegler on Sunday, December 18th at Mingus Union High School Auditorium.  The songs and music will be seasonal, spiritual, and at times eclectic, so come prepared to have your spirits lifted as these entertainers share their simple gifts with the community.
Mount Hope Foods sponsors this event every year.  The concert is free, as well as the holiday refreshments. 
Also, Mount Hope will match all donations, dollar for dollar, (cash only) to our local Meals On Wheels.
The concert begins at 5:30. Doors open at 4:30.
Applications open for Yavapai College free student transition program
Yavapai College is now accepting applications from local high school students who wish to participate in Lead, the college's free high school-to-college transition program.
Students involved in the Lead program experience two college courses, off-campus activities and receive books and meals--all at no charge. Additionally, participants can earn up to six college credits and participate in college preparation activities. The program runs from June 5 through July 27, 2017.
"LEAD is a great opportunity for students across Yavapai County to bolster their confidence as it relates to academic preparedness while developing the skills they'll need to prepare for the college environment," said Dean of Student Development Tania Sheldahl. "We cover areas such as academic and technology skills, campus resources, career exploration, time management and success strategies.
The LEAD program application is available online at www.yc.edu/LEAD. Program space is limited. Early applications are encouraged. The application deadline is March 10, 2017.
Prime Rib Christmas Dinner at the VFW
The Veterans of Foreign Wars Post 7400, at 705 E Aspen St. Cottonwood, is serving their Christmas dinner from 5:00 to 6:30 pm on Saturday, Dec 17.  For the $12.00 donation per person, you will be served prime rib, baked potato, veggie, salad, dessert, and coffee or tea.
There will also be a free raffle for some door prizes. Join us for a good meal and leave the dishes to us.
From the Heart Music and Dance presents The Nutcracker Ballet
Saturday December 17th at 3 pm Sunday December 18th at 4 pm
At the Phillip England Center for the Performing Arts, 410 Camp Lincoln Rd Camp Verde AZ 86322.
Tickets available at From the Heart Music and Dance, 470 S. Main Street in Cottonwood
Or at the door the day of performance.
Adults $15.00, Students/Military w/ID $10.00
This highly acclaimed production is under the direction of Artistic Director Shalane Moore, and is known for it's highly trained dancers, colorful costumes, as well as creative and exciting storytelling through Ms. Moore's eye for detail. She loves to provide an experience the dancers love to perform, and thus the audiences loves to see.
The story of The Nutcracker Ballet begins with a Christmas party, a special gift of a nutcracker, and a magical dream by a girl named Clara. After an exciting battle with the terrible Mouse King, Clara and her Nutcracker Prince begin their enchanted journey through a snowy forest to the Land of the Sweets, where they are greeted by the Sugar Plum Fairy and her friends from around the world.
From the Heart Music and Dance * 470 So Main Street, Cottonwood AZ * 928-300-5234

'Chat 'n' Chew' with Dr. Marta
Dr. Marta Adelsman, Life Coach in Communication and Consciousness, will lead a short discussion entitled "Holiday Gatherings: A Breeding Ground for Communication Collisions" at Jerona Café in Cottonwood on Saturday, Dec. 17th, from 10:30-11:30 AM.

With the stress of holiday busy-ness, keeping family conversations full of peace and goodwill can prove challenging. This short "Chat-'n'-Chew" class allows participants to drop in for a break from holiday shopping to warm up with a hot drink and to receive tips from a communication expert. They will also have a chance to ask questions about how to handle specific issues they anticipate in their holiday relating.
$15 per person. To register, call 928-451-9482 or email drmartacoach@gmail.com
Christmas carols at Clarkdale Park Dec. 16
Join us on Friday, December 16th for this festive community sing-along of all your favorite carols of the season! Gather in front of the lighted historic gazebo in the Clarkdale Town Park. Caroling will begin at 6:00 p.m. Song lyrics and hot chocolate to warm your bones will be provided. Invite your family, friends, and neighbors to attend and be a part of this holiday tradition! Dress according to the weather and bring a flashlight to help read the lyrics.
The Town Park is located in the center of the town's historic district at 1001 Main Street, between 10th and 11th Streets.
Holiday Contra Dance at Civic Center
Cottonwood's Holiday Contra Dance takes place Saturday, Dec. 17th, at the Cottonwood Civic Center, 805 N. Main St. in Old Town. The band Updraft plays the tunes, with Judy Francis, Mary Anne Mcleod, and Mike Reddig, while caller Kari Usher keeps us all on track. Check out contra dancing on Youtube for a peek at this fun dance form. No partner or experience is required—wear comfortable clothes and shoes. Those new or needing a refresher should be sure to arrive at 6:30 p.m. for the half hour lesson; regular dance is 7-10 p.m.  All dances are taught and called. Cost is $10/dancer and $7 for students. Bring a snack if possible. Contact Sandy Boothe for more information at 928-634-0486 or sandy@ringsforever.com.
More like this story
SUBMIT FEEDBACK
Click Below to: