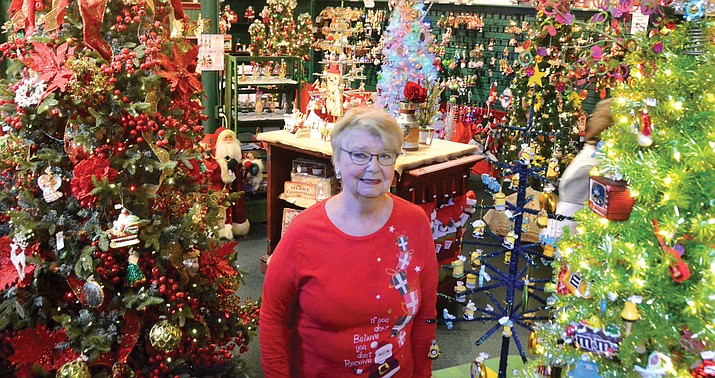 ---
---
There's no better place to shop than a Christmas shop, if you want a blast of Holiday Spirit.
Jerome has such a shop and it has a unique line of ornaments and Christmas novelties.
Tucked away in a basement in the middle of Jerome's historic mining town (111 Jerome Ave.), the Mooey Christmas & Udder Things store contains over a thousand ornaments, Santa and Christmas related items picked out personally by the owner Diana Martin.
Like most business in Jerome, this is no chain store and Martin travels to trade shows to select the store's merchandise herself. These include ornaments resembling cigars, and cows, and a bright red cardinals made of cloth, and a selection of clay ornaments made by Verde Valley artists.
Just walking down the old concrete stairs to the front door of the store is like entering a cold-stone scene out of a Dickens' novel. Looking in the cellar window, Christmas lights shine the warmth awaiting inside.
The store is open 360 days out of the year, but, no, they are not open on Christmas Day, she said. However they will be open until 4 p.m. on Christmas Eve.
Martin has so many ornaments she has divided them up into sections in the store: beach scenes, traditional, a snowman section, a hippie or groovy section, a farm animal section, a whimsical section, she said. The store also makes Christmas wreaths, she added.
Mooey also carries Jerome ornaments made of copper and, of course, a Jerome ghost ornament.
Santa hats, Santa and Mrs. Claus pepper shakers and nutcrackers wait on shelves to be taken home.
Martin said she does most of her business starting in late August and goes through December. January is still good because the Fiesta Bowl and tourist come to Jerome and they buy ornaments from the towns they visit. The local storeowner said she has many repeat customers.
The summer is slow for the Christmas shop, she said. And it's actually slower right now because people have their ornaments up and gifts are purchased already.
However, its Christmas spirit that rises this time of year, Martin said. People seem to be in a happier mood.
The kids really love the store.
Once some parents came in with a child who started talking to one of the three-foot tall Santa figurines like he was real, Martin said. The child began telling the figurine what he wanted for Christmas, she chuckled.
"My business is all year long," Martin said. "I love Christmas."