Editorial: Davis' solid work ethic made for admirable run of county service
Originally Published: December 22, 2016 11:36 a.m.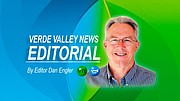 He began his career as a political underdog who made a lot of people eat crow.
Wednesday, District 3 County Supervisor Chip Davis ended one of the most historic runs of service in Yavapai County history.
First, a little background: When Davis first ran for the District 3 county supervisor seat 20 years ago, four of the five mayors in the Verde Valley endorsed his opponent. As did the sitting incumbent. And, as did the two major newspapers in the Verde Valley and Sedona.
Davis proved all the so-called experts wrong by claiming 75 percent of the vote, and, as the Verde Independent headline summarily stated, "Chip seals it."
Even then, at least for a while, Davis had to prove himself as he was succeeding the highly popular two-term supervisor Carlton Camp.
But it did not take long for Davis to win even his non-supporters over and he did it in a way that has stood the test of time for as long as man has toiled on this planet. Davis worked the job. Every day. For many of those days, it seemed like every hour.
Davis was not so much an "elected official" or "public servant" as he was a working stiff like the rest of us. It was that quality that made him "Mr. Untouchable" at the ballot box. He was party to a few one-sided contested elections early in his tenure, but in the end most political aspirants realized it was futile to even wage a campaign against Davis.
His attempt to graduate from county supervisor service to the Arizona House of Representatives met with an outcome not-so-unpredictable when a Verde Valley candidate goes head to head with a Prescott counterpart. The same thing happened to his new boss, First District Congressman Tom O'Halleran, when O'Halleran was challenged by Prescott rancher Steve Pierce. Prescott has voting clout that the Verde Valley still cannot touch.
As expected, though, Davis has found a way to bounce back. He moves from the legislative side of the table to administrative as he has accepted a position as deputy district director for O'Halleran's Northern Arizona office.
One thing we can count on from Davis in his new role: He will be knee-deep in community issues in Yavapai County and throughout the 1st Congressional District. He will bring a blue collar work ethic to the job.
He will have our backs, just as he has for the past 20 years.
More like this story
SUBMIT FEEDBACK
Click Below to: