'Sedona Tom' to the rescue
If you've had too much to drink, Tom Nuanez has your back when it's time to drive home

Originally Published: December 29, 2016 4:03 p.m.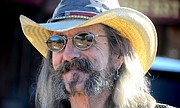 "Sedona Tom" Nuanez may help save lives with his designated-driver service, but he agrees it might be helping to save his own life at the same time.
Nuanez will be sober for 28 years on Jan 9. One year ago, he decided to begin giving rides for donations to people in bars and other places who may have had too much to drink.
It's "very rewarding," he said, adding that all he has wanted to do since he got sober was "help others."
It doesn't bother him to be around bars anymore and helping people is a spiritual thing for him.
"I'm having a ball," Nuanez explained. "I'm not a preacher. I'm not judgmental about people drinking. People can drink if they want. As long as I don't, I'm fine."
However, "I'll make suggestions,"  he pointed out. "I've been working with recovering people for 27 years and it's basically, I'm just trying to set an example that somebody that looks like me, acts like me, is crazy as me can stay sober."
Nuanez, who lives in Sedona, is certainly a character that locals can depend on for a ride and tourists will never forget.
"I'm a hugging designated driver," he said. "We are losing human contact because of damn computers."
Nuanez says he works with the bars and bartenders to coordinate safe rides home to patrons at a reasonable prices, mostly locals. But he has gotten calls of thanks from all over the world. Sedona Police have called him to pick up riders, he added.
"The bartenders have me in their phones," Nuanez explains. "When the bartenders call me - boom I'm there." It takes him about five minutes to respond to a bar in Sedona and 25 minutes to bars in Cottonwood from his Sedona home. "I'm always on standby."
He has become so popular, he said he is busy most nights.
The ride service lasts until approximately 3 a.m. when he finally goes home. But he did once get a call from someone at 5 a.m. who was lost. If you need, a ride, the number is 602-348-6738.
Nuanez has already talked to three bars for this Saturday's New Year's Eve and he is expected to be extremely busy. But if you need a ride, he says he'll still try to find a way to get you home. His night will end about 3:30 am.
"Tommy," as he is also known, has four children six grandchildren. He said he was very proud of his Yaqui-Apache heritage.
"I got a lot of history in this town," he said with smile, adding that he loves to talk to his riders and even goes to bars and hangs out, without drinking, to talk with customers. "You can tell I am a motor mouth," Nuanez says with a smile.
"I'm so grateful to be alive," Nuanez said, reflecting as he reminisced about growing up in the Verde Valley and about all his old friends, "There's a few of us left. I can't believe it."
More like this story
SUBMIT FEEDBACK
Click Below to: