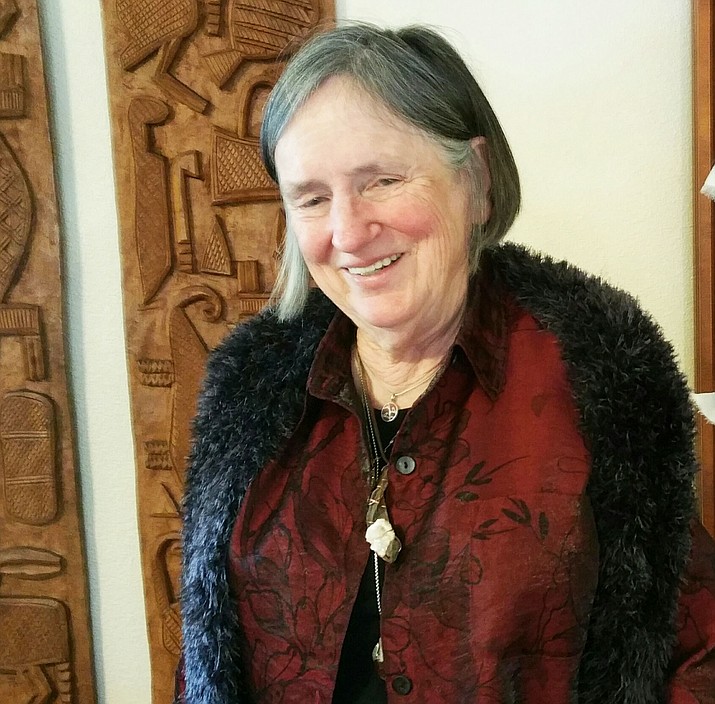 ---
---
Ann Metlay, the Featured Artist for January at the Village Gallery of Local Artists,  produces art with multi-sensory appeal.
Her recently published word artistry book, Sensations in Color takes up the challenge of producing visual imagery using only words.
With her assemblages of local desert driftwood, Ann creates pieces of art which appeal both with their visual beauty, and with their smooth, touch-appeal surfaces. 
Ann was born and educated in Berkeley, Calif. After two years in the Peace Corps in Nigeria, she settled into a thirty-five year career in special education and reading.
After devoting much of her creative energy throughout her life to writing poetry and short stories, she discovered her passion to bring out the sculptural grace in pieces of dried desert wood. 
Now Ann makes stand-alone sculptures, wall hangings and smooth wands shaped to soothe as they are held.
"I have always loved creating wholeness and beauty from what others might see as broken," Ann explains.
"Before I conceived of the challenge to create my sculptural pieces from dried-out sticks, I worked with students facing multiple challenges. Using strategies as seemingly random as camping trips with my students, writing cookbooks in simplified language for them and successfully submitting their poetry for publication, their self- esteem rose, and they made significant gains in all areas."
A six-year resident of the Verde Valley, her poetry and her sculptures reflect her love of the dramatic landscapes in this area. Ann and the thirty eight other artists in the Village Gallery welcome the public to their First Friday Art Walk Jan. 6 from 5- 8 p.m. at 6500 Scenic Hwy 179 in Sedona.
For more information and artist applications, call 928-284-1416 or www.sedonalocalartists.com. Hours are from 10 a.m.-6 p.m. daily.