Crews on schedule for airport apron reconstruction project
Beginning phase to be completed by early December
Originally Published: November 4, 2016 11:07 a.m.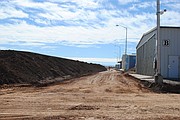 COTTONWOOD – Crews are on schedule at Cottonwood Municipal Airport as they aim to reconstruct a portion the airport apron thanks to a grant from the Federal Aviation Administration.
City Council approved the grant Sept. 6, along with the scope of work with C&S Engineers, Inc. and Capital Improvements for the project.
The airport apron - the area where aircraft parks - was in poor condition and had approached the end of its useful lifespan, according to the council agenda. ADOT conducted a study and produced a Pavement Management Report for the airport in August 2014.
Crews are busy reconstructing the apron, milling and removing 18 inches of pavement, an aggregate base course, and select base material. The existing asphalt is being recycled for the select base course, said Morgan Scott, Development Services Manager.
Due to limited funding, stated the agenda, the project was split into five phases. Based on bids that were received on June 1, the FAA approved enough funding to complete the first two phases this year.
"This phase will be complete in early December and the next phase has not yet been set," said Scott.
According to the council agenda, the bids for the first and second phase of the project came in at $917,495 with the FAA tentatively awarding the grant. The FAA is funding 91 percent of the project, according to the agenda, with ADOT funding 4.5 percent and the city funding 4.5 percent (with airport funds and the general fund). The City proceeded with the design of the reconstruction of the apron.
Cottonwood Municipal Airport, formerly known as Cottonwood/Clemenceau Airport, was originally established in the early 1940s as a military training base for World War II naval cadets, according to the city's Airport Master Plan document.
More like this story
SUBMIT FEEDBACK
Click Below to: