Rezoning for Vineyards at Cottonwood gets first-phase approval from City Council
Cottonwood News Roundup
Originally Published: November 5, 2016 2:17 p.m.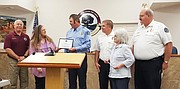 The Cottonwood City Council Tuesday approved the consideration of the first reading of an ordinance to rezone an area for the Vineyards at Cottonwood development for five parcels of land totaling approximately 100.83 acres, located east of the intersection of Groseta Ranch Road and SR 89A.
According to the agenda, Council considered the proposed 555-unit residential planned development at their Sept. 13 work session. The Planning and Zoning Commission considered the proposed PAD rezoning at their July 18 meeting and recommended approval subject to 23 conditions. Additional technical conditions have been added for Public Works, Utilities, and Fire Department requirements.
The proposed Vineyards at Cottonwood project, according to the agenda, includes approximately 100.83 acres with 65 acres of mixed residential development, three acres of community center/commercial, and 30 acres indicated as open space.  
Mingus Avenue Improvement Project contract awarded
The Cottonwood City Council also Tuesday awarded the contract for the Mingus Avenue Design (Eighth Street to Main Street) to Southwestern Environmental Consultants, Inc.
There are several improvements planned for Mingus Avenue from Willard to Main Street, according to the agenda. This proposed roadway improvement project will complete the design for the reconstruction of the Mingus Avenue corridor. 
The proposed improvements include road reconstruction of a three-lane roadway, one eastbound travel lane, one two-way left-turn lane, one westbound travel lane and a five foot shoulder in each direction, suitable for bicycle use. 
In addition to the proposed roadway improvements, stated the agenda, will be new curb, gutter, and sidewalks on both sides of the roadway and drainage improvements to the corridor between Eight and Main Streets.  
The project is not to exceed $190,508.
Council is scheduled to meet again for a work session Nov. 8, and for a regular meeting Nov.15. The meetings are set for 6 p.m. at the Council Chambers Building located at 826 N. Main St.
Alcohol approved for Discing 4 Kids event at Riverfront Park
The Cottonwood City Council Tuesday approved a waiver of a municipal code for the sale and consumption of alcohol for the "Discing 4 Kids" event at Riverfront Park Nov. 5 from 11 a.m. to 7 p.m.
According to the agenda, the City is collaborating with the non-profit event to host the fifth annual Fall Classic Disc Golf Tournament. "Discing 4 Kids" (an adult event) wanted to sell alcohol to benefit the organization, with 100 percent of the funds raised going back to the "Discing 4 Kids" program, along with the designation of a maximum amount of $1,000 towards the Verde Valley Military Park.
Council also approved a special event liquor license application, submitted by Eddie M. Diaz, for "Discing 4 Kids."
SUBMIT FEEDBACK
Click Below to:
More like this story