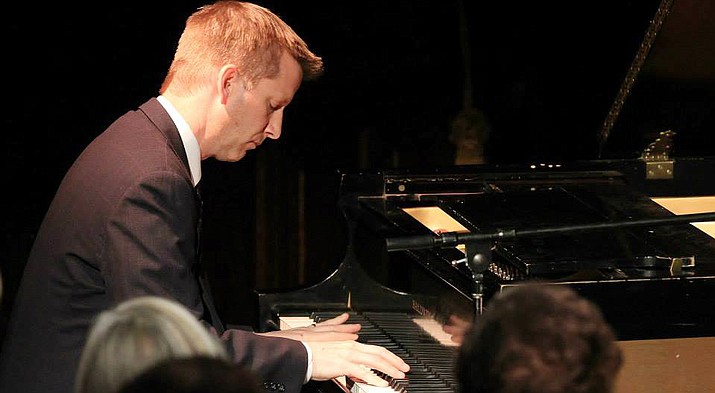 ---
---
Doing a solo piano concert at Sedona Jazz at the Church is unique, and with Sunday's concert Michael Kocour offers a kind of casual mastery and urbane carriage that makes the demanding solo piano idiom sound as natural as breathing.
Kocour's personal and musical cache includes the keyboards of piano and Hammond B3 organ, together with teaching, composing and orchestrating this fabulously difficult musical expression called "Jazz."
An associate professor at Arizona State University in Tempe for more than a decade, Michael is also the Director of Jazz Studies in the University's School of Music.
Kocour was born and raised in the Chicago area. He received his bachelor's degree in mathematics from the University of Illinois in 1985 and went on to a Master's degree in music theory at Northwestern.
From 1991 to '94, Michael taught jazz and piano pedagogy at the University of Illinois, before returning to Northwestern as a jazz lecturer.
Throughout his stay in the Chicago area, jazz fans of Kocour's music grew exponentially, and he was hailed by the Chicago Tribune as "one of the most sophisticated pianists in jazz."

He was also a guest on Marian McPartland's internationally syndicated NPR program entitled "Piano Jazz." McPartland said of Kocour, "He has a remarkable creativity and a technique to die for. Sparkling ideas fly from his fingers making harmonic sophistication the order of the day."
Finally, in 2004, Michael left Chicago and ventured to the Southwest and Arizona, taking his present position as director of Jazz Studies at Arizona State University. Within a year, his passion for teaching had been recognized with a Distinguished Teacher Award.
Among the many artists and ensembles with whom he has appeared with are Dizzy Gillespie, Joe Lovano, Eddie Harris, James Moody, Eddie Daniels, Randy Brecker, Benny Golson, Ira Sullivan, Carl Fontana, Dewey Redman, Lew Tabackin, and the Chicago Symphony.
Michael's work as a studio musician includes soundtracks to two major motion pictures, and numerous television commercials. He has also released six critically acclaimed CDs as a leader.
For devotees of his creativity, Alfred Music has published Kocour's original compositions and arrangements for piano. His arrangements for jazz ensembles can be found at ejazzlines.com.
Sunday's concert is the eleventh in the series of 12 concerts of the 2016 season. The final concert for the year will take place on December 11, with the annual "Have A Jazzy Little Christmas" concert, this year with flugelhornist Dmitri Matheny.
The 2017 concert series will be published in December, and season tickets will then be available to purchase online.
Tickets for Sunday's concert are $15 and are available online and "at the door."
Doors open for season ticket holders at 2:20. p.m. and "Will Call" folk at 2:30 p.m. At the door ticket sales begin at 2:40 p.m., and the concert begins at 3 p.m.
The ultimate chamber jazz concert venue in Northern Arizona, Saint Luke's Church is the home of Sedona Jazz at the Church, and is located in the Chapel area of Sedona, on Highway 179 between the Back O' Beyond and Chapel Road roundabouts. 
For more information, telephone the church (928-282-7366) or visit the internet home of Sedona Jazz at the Church, found at www.episcopalnet.org